Overthink Group is a strategic content marketing and SEO agency. We help companies grow by planning and making Free Helpful Stuff.
Great content deserves great strategy
If you want to grow, "great content" alone is not enough. Your content needs to be relevant, timely, and competitive. It's tough to do that on a post-by-post basis. But a data-driven strategy makes it easy and repeatable. That's what we're here for.
We analyze data …
Our content analyses find and predict the content your market wants.
… to create a clear content strategy …
Data-driven content saves your team from keyword quicksand and free you to produce content with confidence.
… that grows your audience.
Engaging content attracts traffic and leads, and it keeps the tribe you have engaged.  
We do the heavy lifting.
We often lend a hand in production, too. We write long-form Web pages, we design infographics, and we create unbelievably popular lead magnets.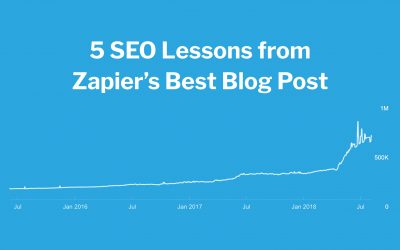 If you've done much content marketing in the SaaS world, you've probably spent some time on the Zapier blog. Zapier is a tech company that helps people integrate various tools—even if they're not developers. Zapiers gets apps like Google Sheets, Box, and Salesforce to...
read more
Be the in-house content brainiac
Let's be friends
Here we are at the bottom of the page. We've done a lot of talking—but we'd love to hear what you have to say. Want to chat about content marketing and SEO strategy?
Let's make it happen.