If you're selling B2B SaaS, odds are good you serve a few niche industries. When decision-makers in these industries begin considering product options in your category, some of them will inevitably search for your product category in their industry. For example:
A cocktail lounge owner might Google "POS systems for bars."
A pastor might Google "donor development for churches."
A pizzeria owner might Google "Pizza delivery fleet management."
For these specific types of queries, it's often smart to have a page dedicated to each specific niche—or "industry pages" as some would call them. These industry pages can pull in targeted, high-intent search traffic, and they're an invaluable part of a product category Link Lattice.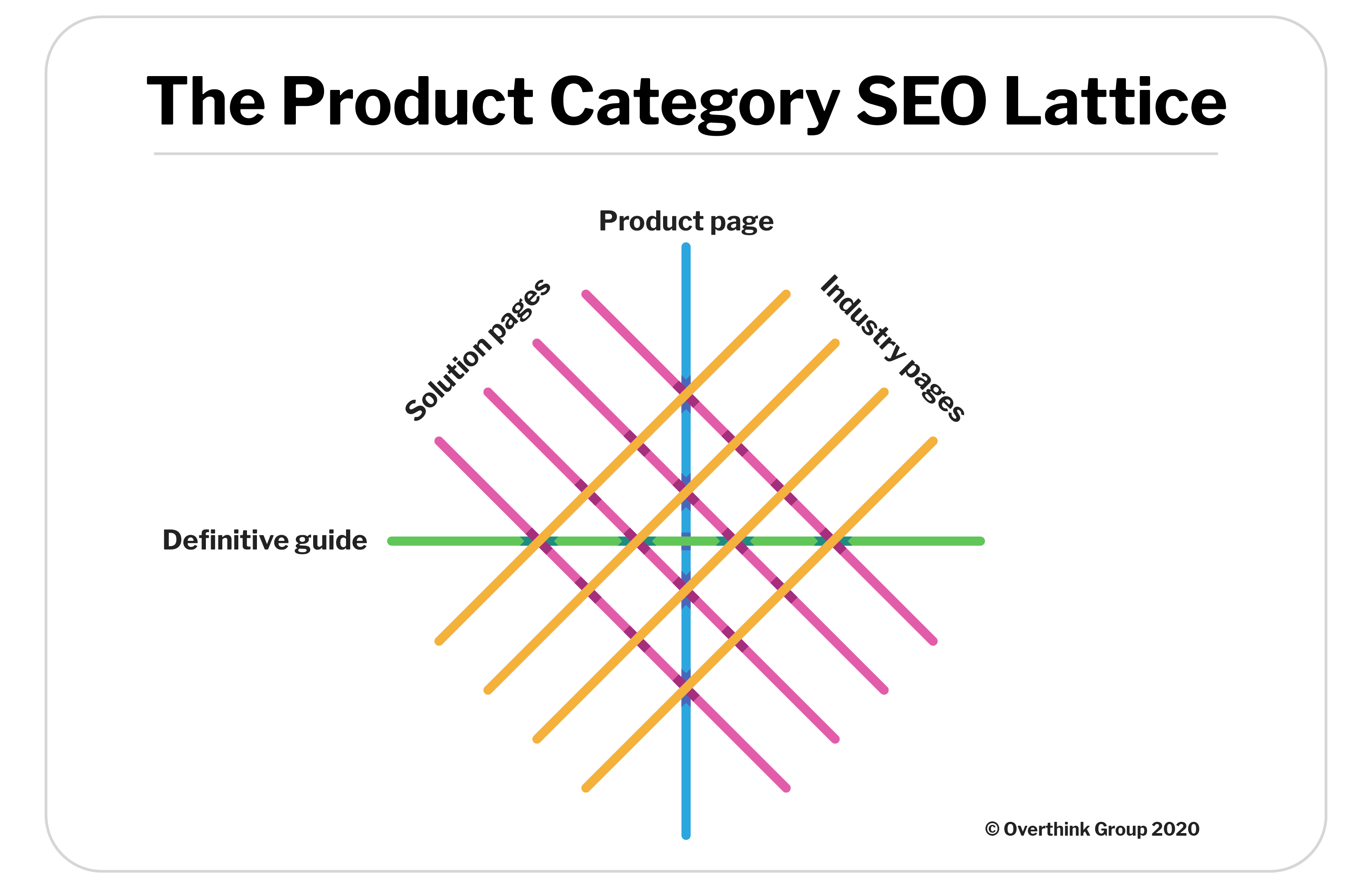 Here's a quick cheat sheet you can use to set up your solutions pages to not only bring in organic traffic, but also set up the rest of your site to perform well in search engines, too.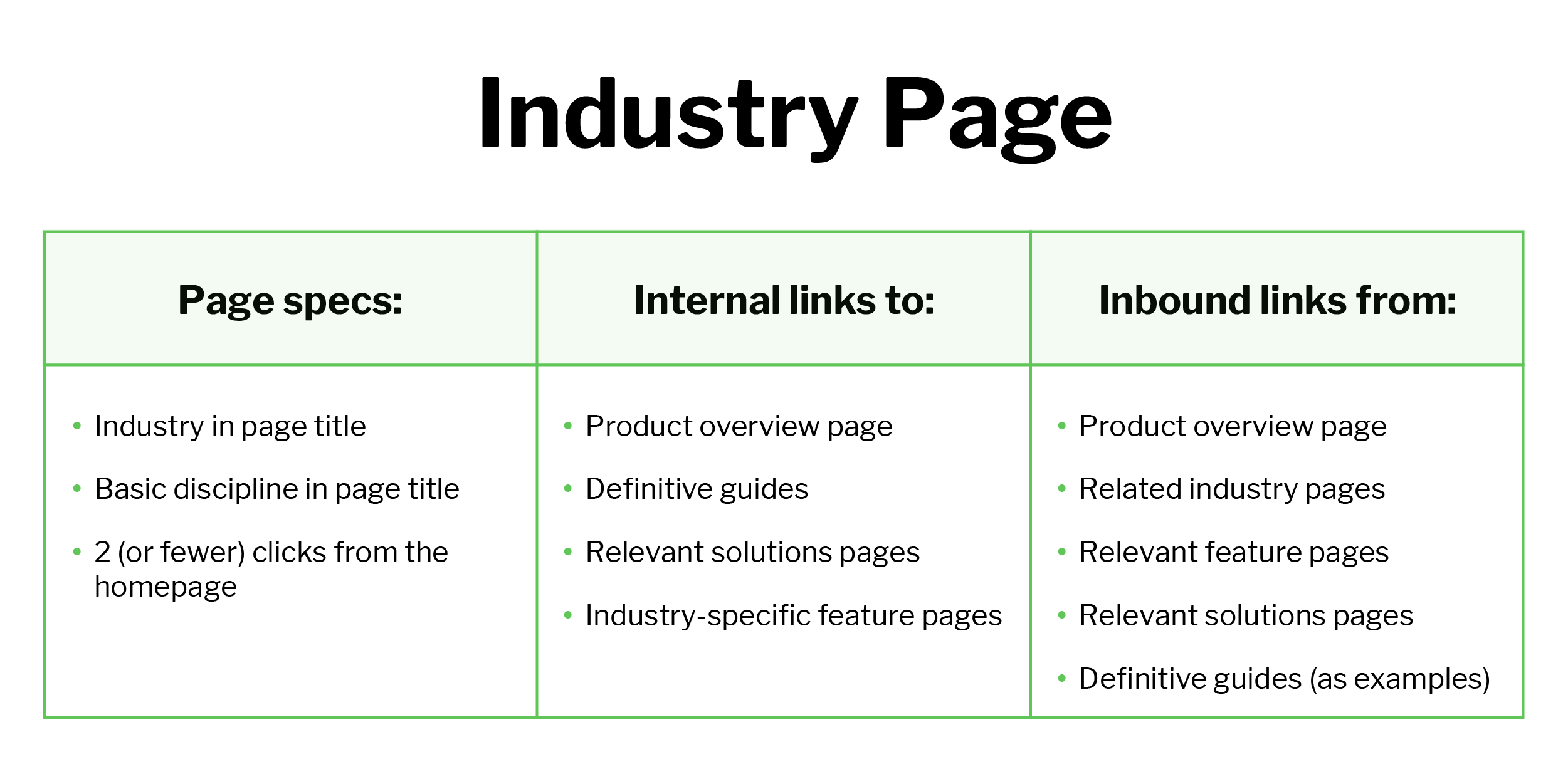 1. Put the industry name in your page title
If you play this right, this page will show up for niche queries combining your product category with a specific industry. So if you sell, say, POS software for small retail businesses, you'd want to show up when people Google "POS for bakeries," "bakery POS," and "transaction processing for bakeries."
For this to happen, it's smart to signal to both Google and readers that you have a page devoted to this—and one of the simplest ways of doing so is to put the niche in the title of the page.
2. Put the product category in your page title, too
Since this page needs to rank for queries at the junction of both your category and a specific industry, it's smart to put both in the title of the page.
You'll want to avoid keyword stuffing your titles, though. If you manually add your product category to the title, make sure to check you're not adding it on top of default text that also includes the category.
It's common for websites to have a default site-wide title that backfills shorter page titles. And it's possible that this default title includes your general product category. If that's the case, just double-check to ensure that you don't end up with a repetitive page title.
Because not only is that unhelpful from a technical standpoint, it also looks silly in the SERPs.

3. Make it one click from your homepage
Google takes the number of clicks it takes to get to a given URL from the homepage into account when ranking pages on a given site. SEOs call this number "page depth." The more clicks away from your homepage a URL is, the greater its page depth. To Google, a page that you can find from the homepage is probably higher priority than a page that's buried several layers down.
Your industry pages should have relatively low page depth. They're important gateways for niche researchers, and helpful content for those who are exploring the category as a whole (via product overviews, solutions pages, or definitive guides). So make sure they're all easy to access from the homepage. (It's common to stick these into the header or footer menus of your website.)
4. Link to relevant SaaS product overview pages
The obvious SEO move: your product pages might be the most important sales pages on your site. You want these pages to rank when people search for your type of product—so you want to give those product pages every relevant link you can. Any other high-profile page should link to it—including your industry pages. If people are reading about how your product plays in their particular industry, you need to make it easy for them to learn all about your product.
5. Link to definitive guides
If you've published a definitive guide on your category, this page can probably link to it as a means of giving new visitors a way to educate themselves on the category as a whole. It doesn't need to be the main call to action, but it's generally a good call to give those definitive guides as much link love as you can from relevant pages.
6. Link to relevant solutions pages
Your industry page should mention the various problems your product solves in a given industry. When you mention these problems, link to your solutions pages, where you describe how you solve those problems in more detail.
This builds internal links to pages that can function as other types of gateways: landing pages for people trying to solve a general problem, but aren't necessarily Googling industry-specific solutions.
7. Link to distinctive features
Each industry page should highlight the features your SaaS product brings into that space—especially features that give you a competitive advantage in that niche. When you mention these features, you should link to your individual feature pages.
8. Link to the industry page from relevant product pages
Your product page should give readers an overview of what your product does—which can include mentions of brands or industries that you've demonstrated a particular penchant for helping. If a specific industry comes up, it doesn't hurt to give a text link to the industry page.
9. Link to it from adjacent industry pages
If you're strong in several adjacent verticals, you might find opportunities to interlink some of your industry pages together. This doesn't need to be a big call to action (and it probably shouldn't be). But if there's an opportunity to mention related industries in the text, it doesn't hurt to throw your industry pages some textlinks to each other.
10. Link to it from relevant feature pages
Feature pages will drill into specific sub-product capabilities of the SaaS product. These feature pages will likely benefit from examples of how the feature helps clients in a certain industry—and that's where your industry pages come in.
If you need an example to illustrate how a feature is beneficial, and if you don't have a case study you can send people to, give your readers a link to relevant industry pages. This doesn't need to be a big call to action on the feature page—it can be as simple as a "learn more" link.
11. Link to it from relevant solutions pages
If people are reading about the problems your product solves, you'll likely be providing those readers with examples. This is an opportunity to link to industry-specific pages, where they can get a more specific idea of how you help a given vertical.
12. Link to it from definitive guides (as examples)
Definitive guides are long-form articles that answer three main questions about a given topic or discipline:
What is it?
Why is it important?
How does it work?
Examples are very helpful in these guides—they give your readers real-life or hypothetical situations to attach these abstract practices to. And these industry pages can be a perfect way to lend some extra credibility to your examples—even if they're hypothetical. When you mention examples in your definitive guides, keep your industry pages in mind as potential next steps for your readers. It can be a smart way to get them thinking more about how your product can specifically help them.
Why does this work?
By intentionally interlinking your pages, you accomplish two things:
You make it easy for visitors to navigate your site, no matter how they get there.
You make it easy for Google to see which pages are most important on your site.
To learn more about how these and the other pages fit together, check out our complete guide to product category SEO.