SEO is a vast discipline. If you rank for the right keywords, you'll get found by the people who are looking for the kind of help you can give them.
If you don't rank for those keywords, SEO can be a massive waste of time.
Fortunately, there's one slice of SEO that's always smart for B2B startups to invest in.
It's the kind of SEO that got MailChimp to rank for "email automation."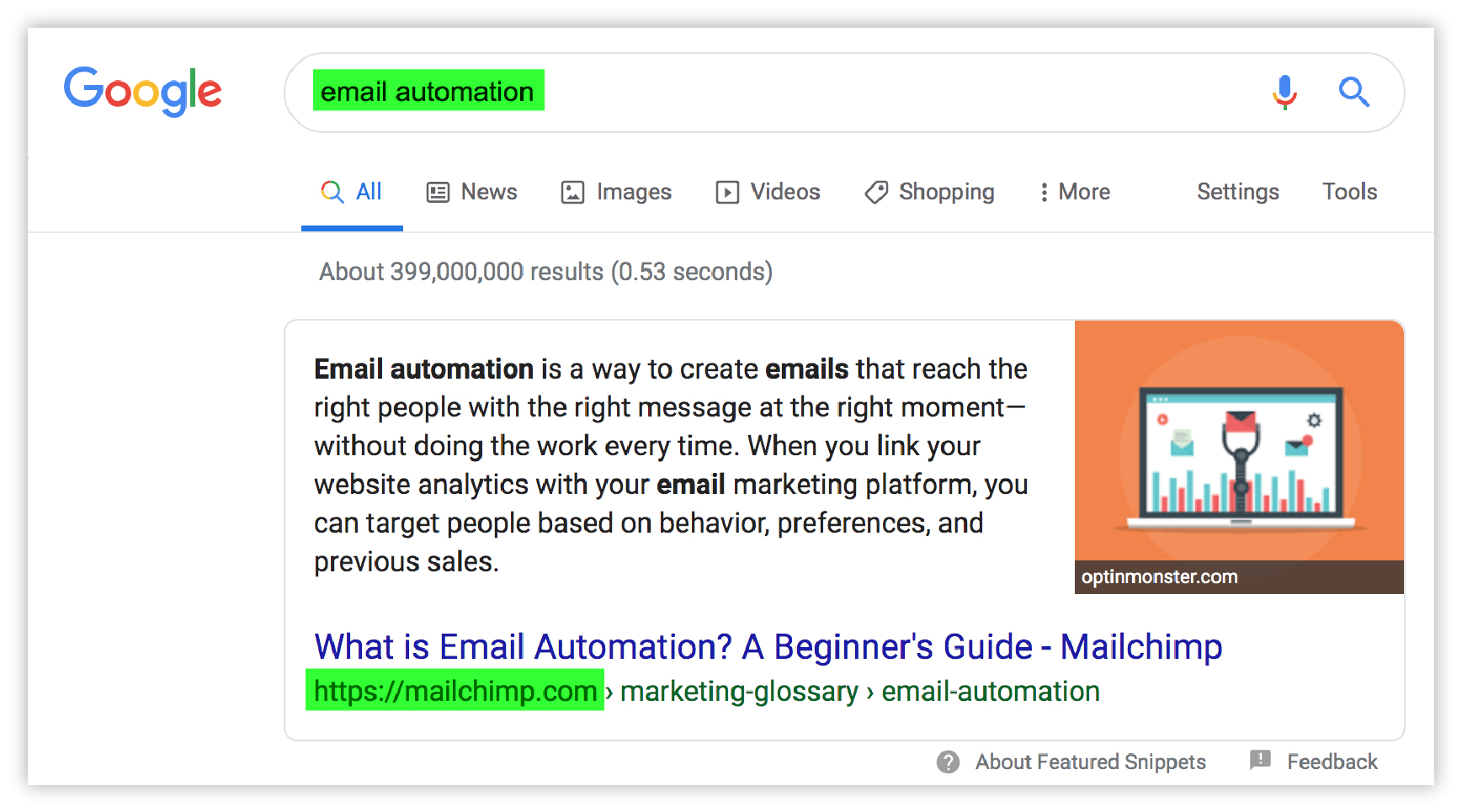 It's how HubSpot and Marketo rank #1 and #2 for "lead generation."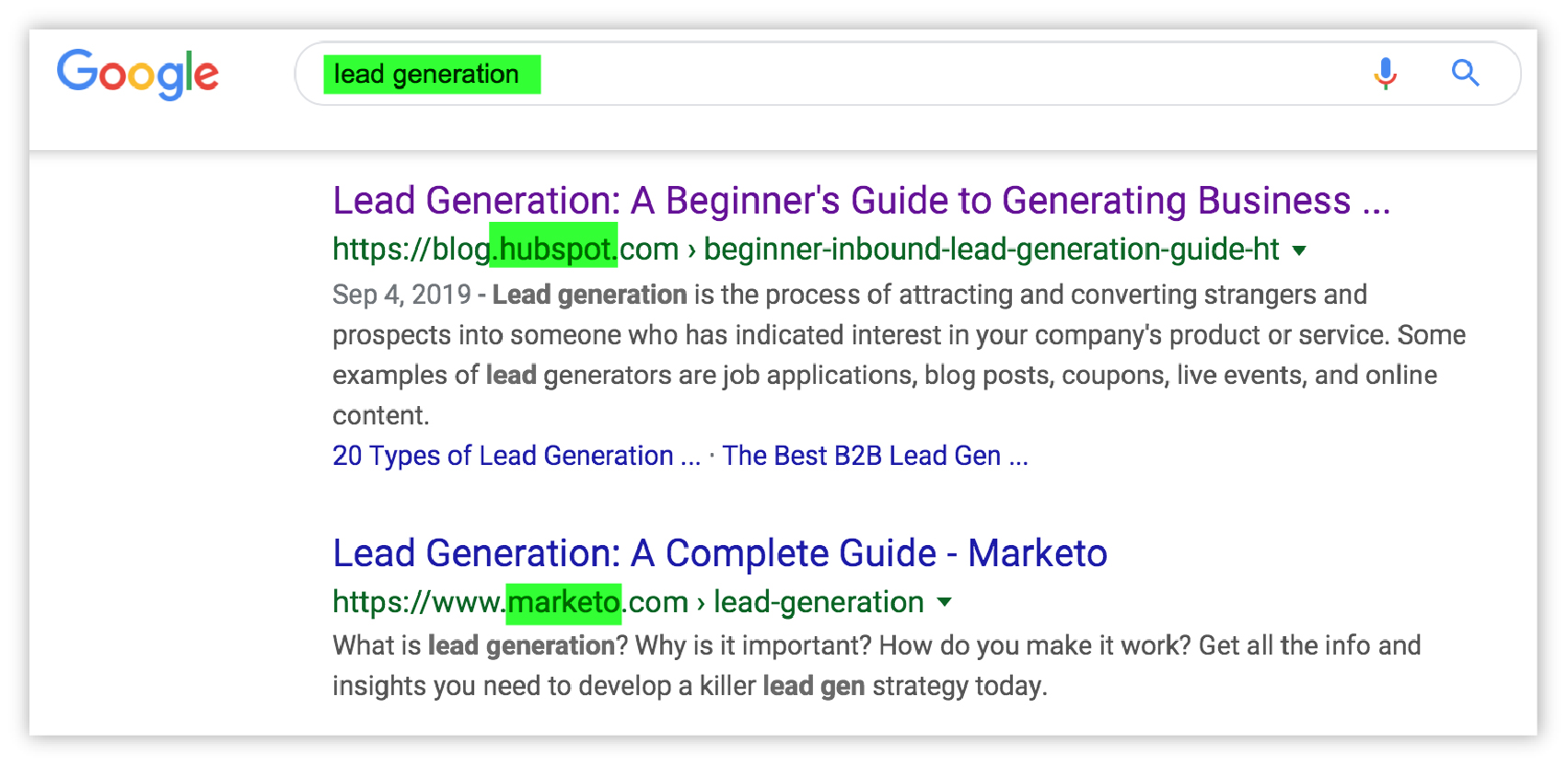 And it's how Buffer ranks #1 for "social media marketing."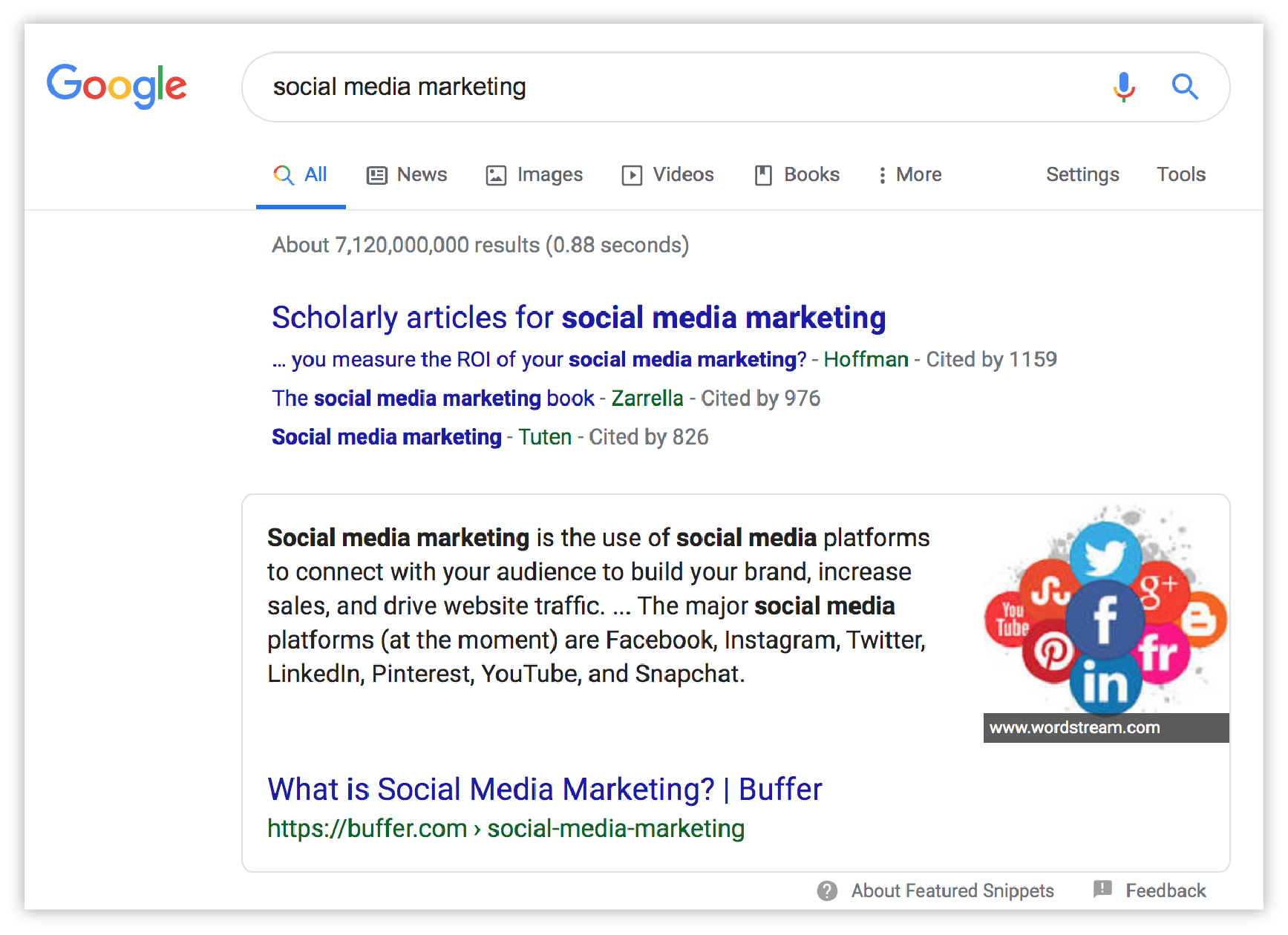 It's product category SEO.
And if you're trying to grow a B2B startup, it's likely the most valuable SEO investment you can make.
In this guide, we're going to cover exactly what product category SEO is, why it works, and how to do it:
What is product category SEO?
Product category SEO is the discipline of using search engines to turn curiosity about your category into interest in your specific products.
For example, Buffer makes software that helps brands manage their marketing efforts on social media. Social media marketing is a category that their products fall into. And Buffer's SEO game turns an interest in the product category into interest in Buffer's B2B solutions.

It's a key discipline when it comes to B2B SEO, because you're targeting the kind of search volume that's closely tied to what your product does. As is common in B2B SEO, many product category search terms are low-volume. In fact, the most-searched keywords are usually the names of the categories themselves.

Why is product category SEO so effective for B2B startups?
For startups, time is everything: measurable growth needs to happen fast. And if you're working in the B2B space, you're already facing a longer sales cycle.
The problem: general SEO is already infamous for being a slow, never-ending process, and one whose ROI is difficult to quantify.
But product category SEO is different. It's focused on building a specific suite of content that ranks for the kind of searches people are making when they're thinking about purchasing a new product in your category. It's a containable, measurable, on-target project that can be finished in just a few months.
It works so well because product category SEO is all about educating people on how a certain discipline works—and what kinds of tools can help them master that category.
When people start exploring a product category, it's often because they're one of several stakeholders making a long-term decision. These decision makers need to consider whether or not a product category is right for them, and if so, which product or products will get the job done.
This type of decision-making is typical in B2B marketing and sales—which I go into plenty of detail on in our guide to B2B SEO.
There are some specific reasons B2B startups should focus on product category SEO:
High-intent organic traffic
Top-of-funnel search traffic is valuable—but it's also broad. You might win a lot of traffic by targeting broader search terms, but that traffic is not necessarily interested in what you're selling. That means you either need to let them bounce, or try to awkwardly segue from the content to your offerings.
But product category SEO is focused on attracting people who are specifically trying to understand your category. By committing to educating people on this, you won't need to make any awkward transitions into sales or lead-gen pitches. You're already talking about what you help people do—and you're talking to people who want to know more!
Brand positioning
This one's pretty obvious. If people are learning about the category from you, it associates your brand with the category. That's a good place to be.
Furthermore, owning the search results for your category is a great way to get free mentions from other brands in your market. If you've published the best guide on a topic, then other B2B blogs are likely to reference it—which further sets you up as the brand expert on your category.
Demand generation for features
If you're the brand teaching the market how a certain discipline works, then you also get to set expectations for what a tool should be able to accomplish. Since you've captured people at the curiosity stage, you can tell them what sort of features to expect from a product in your category.
It's a smart way to begin differentiating yourself from the competition before some of your readers even know who the competition is.
Less busywork
It's common to see startups tackle content marketing, SEO, and the editorial calendar in one place: the blog. A company blog can be a fantastic place to house your SEO content—but because most marketers have a habit of treating blogs like serial publications, it's easy for them to end up on the content-creation treadmill. There's always another pillar page to write, and another cluster of supporting blog posts to publish.
But focusing on product category SEO can free you from this constant demand for new content. Instead, you define exactly what aspects of your product category you need to publish content on, and write it. A suite of 10–25 pages might be all you need to do the SEO heavy lifting.
And what kinds of pages might they be?

7 types of product category SEO pages
There are seven common types of pages that brands use to successfully rank for category-level searches. You might not need each of these page types, but you will likely find yourself publishing a mix of the following.
1. Product overview pages
A product page is exactly what it sounds like: it's the main page where people get an overview of what your product is and what it does. For companies that only sell one product (or have one main flagship product), the home page often functions as a product overview page.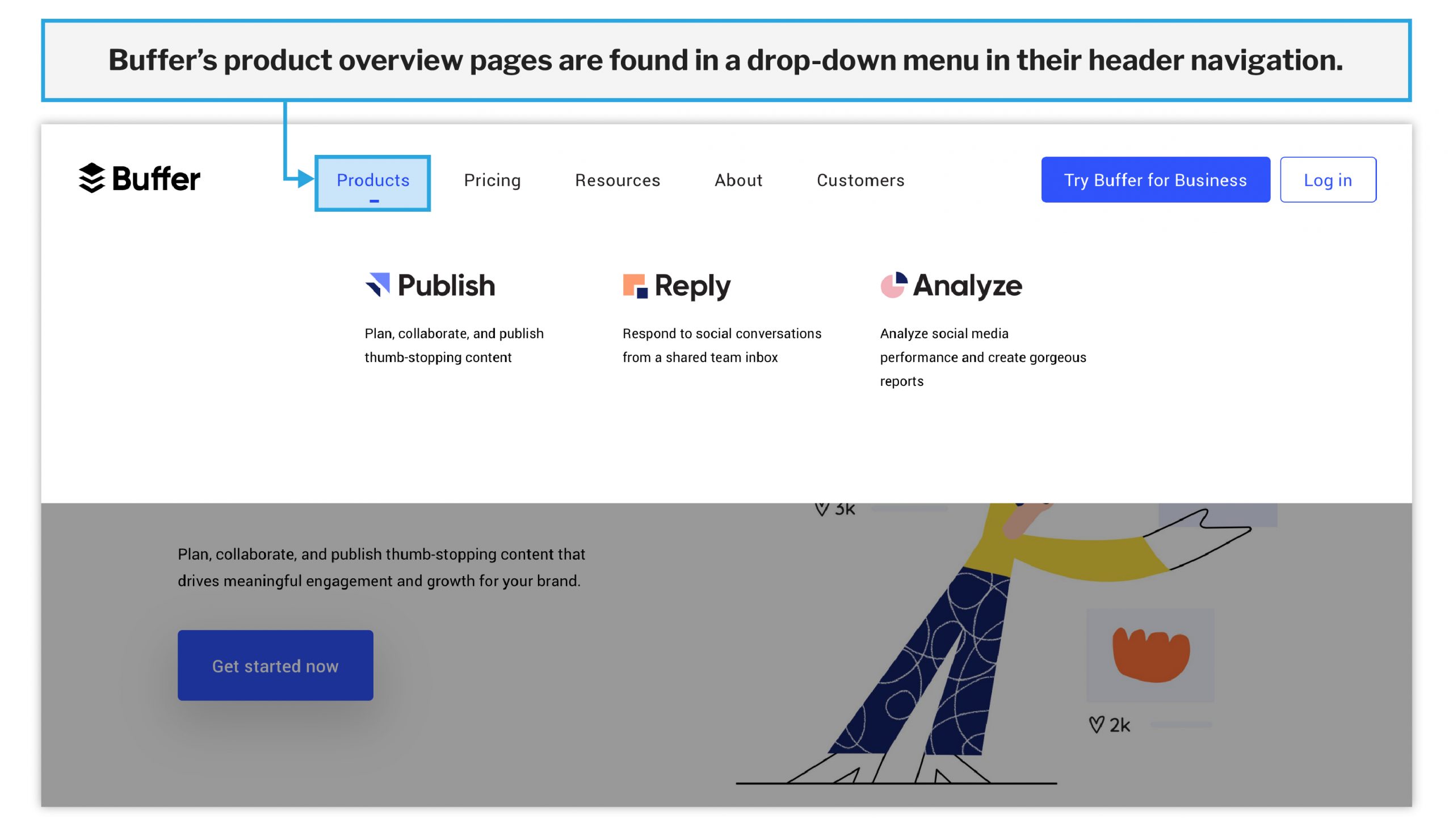 These pages usually live at the high end of a site's content hierarchy, and can usually be found from the site's header navigation.
Examples of product overview pages:
Buffer (categories: social media marketing, social media management). They use their homepage to overview their flagship product, Publish. They have specific product overview pages for their Analyze and Reply products, too.
Pushpay (category: digital giving). Their product overview pages give a high-level look at the features and benefits they can offer their clients, with jump-off links to explore specific features, disciplines, and case studies in-depth. Their overview page on their digital giving product is a fine example.
2. Solutions pages
These pages focus on a specific benefit your product provides. They highlight a problem your audience is trying to solve, and then describe how your product (or suite of products) is the solution.
Solutions pages are common for brands that offer one comprehensive system that solves many types of problems. It's also common among brands that bundle apps and products together into different packages to address various needs.
You'll often find links to solutions pages in a website's main menu.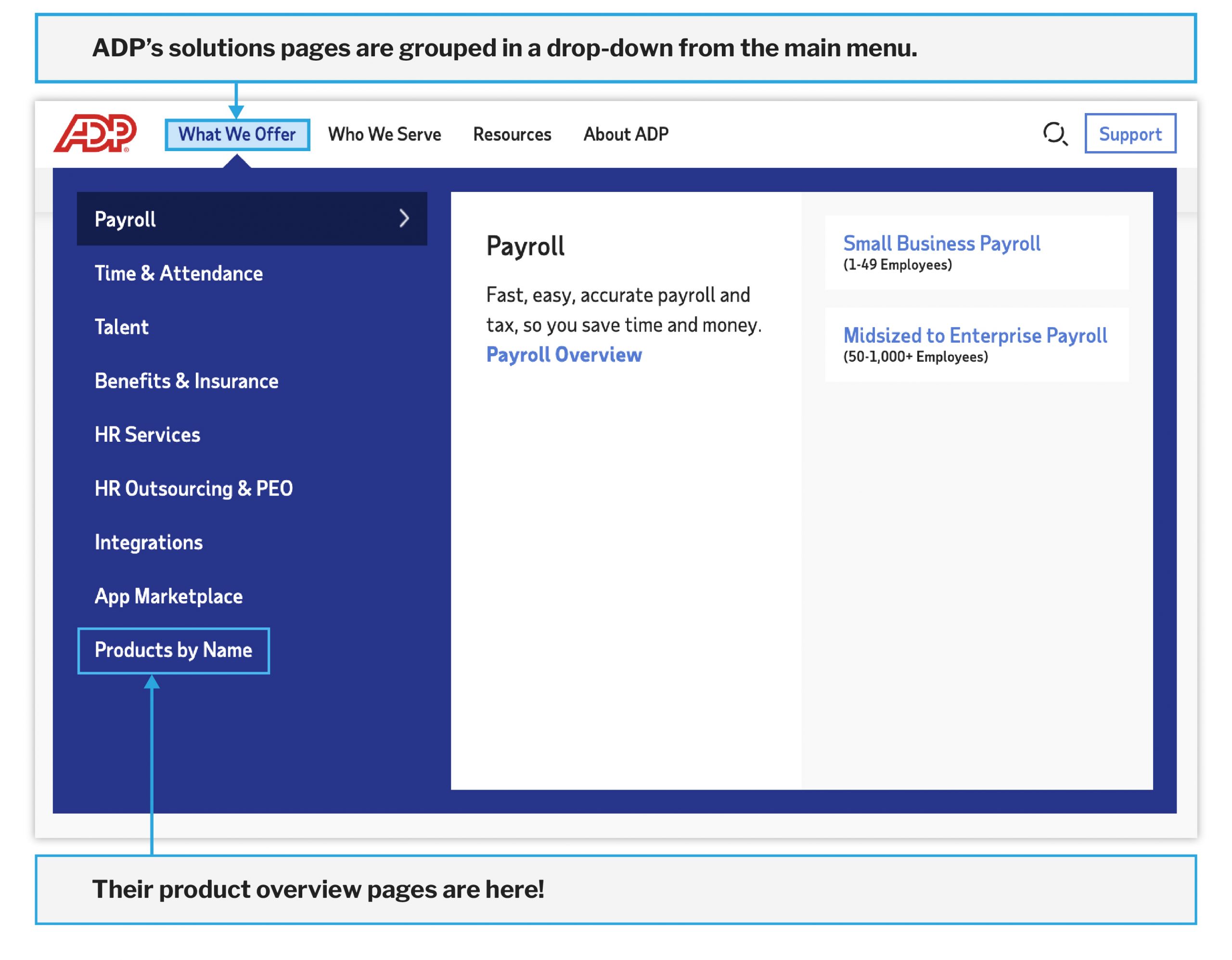 Examples of solutions pages:
ADP (category: payroll). The HR software giant offers several products, which address multiple problems that HR professionals face. So ADP has created pages that detail all the ways they help clients with individual problems—including this solutions page on employee payroll. At the time I'm writing this guide, this page ranks #2 for "payroll" … so that's a good sign.
75F (category: building automation systems). 75F addresses several different problems with their software and hardware products. Their website sports solutions pages that group their offerings around specific problems like airflow, lighting, and air quality.
3. Industry (niche) pages
Just like a solution page focuses on how your brand solves a specific problem, an industry page shows how your brand serves a specific customer vertical. These pages list the products and features that a certain type of business would use, as well as the problems and pain points that you address in that industry.
These are valuable because they're more likely to rank when someone is searching for a solution specific to their industry—which signals more purchasing intent than simply searching for the broad product category. For example, someone Googling "Business insurance for breweries" is probably further along the decision-making process than someone searching something general, like "business insurance."
Industry-specific pages are also super helpful when it comes to B2B sales. They're a place to spotlight customer testimonials, link to case studies, and demonstrate to prospective customers that you're the best choice for their unique needs.
For enterprise B2B companies, it's common to find these pages in the website's main header navigation.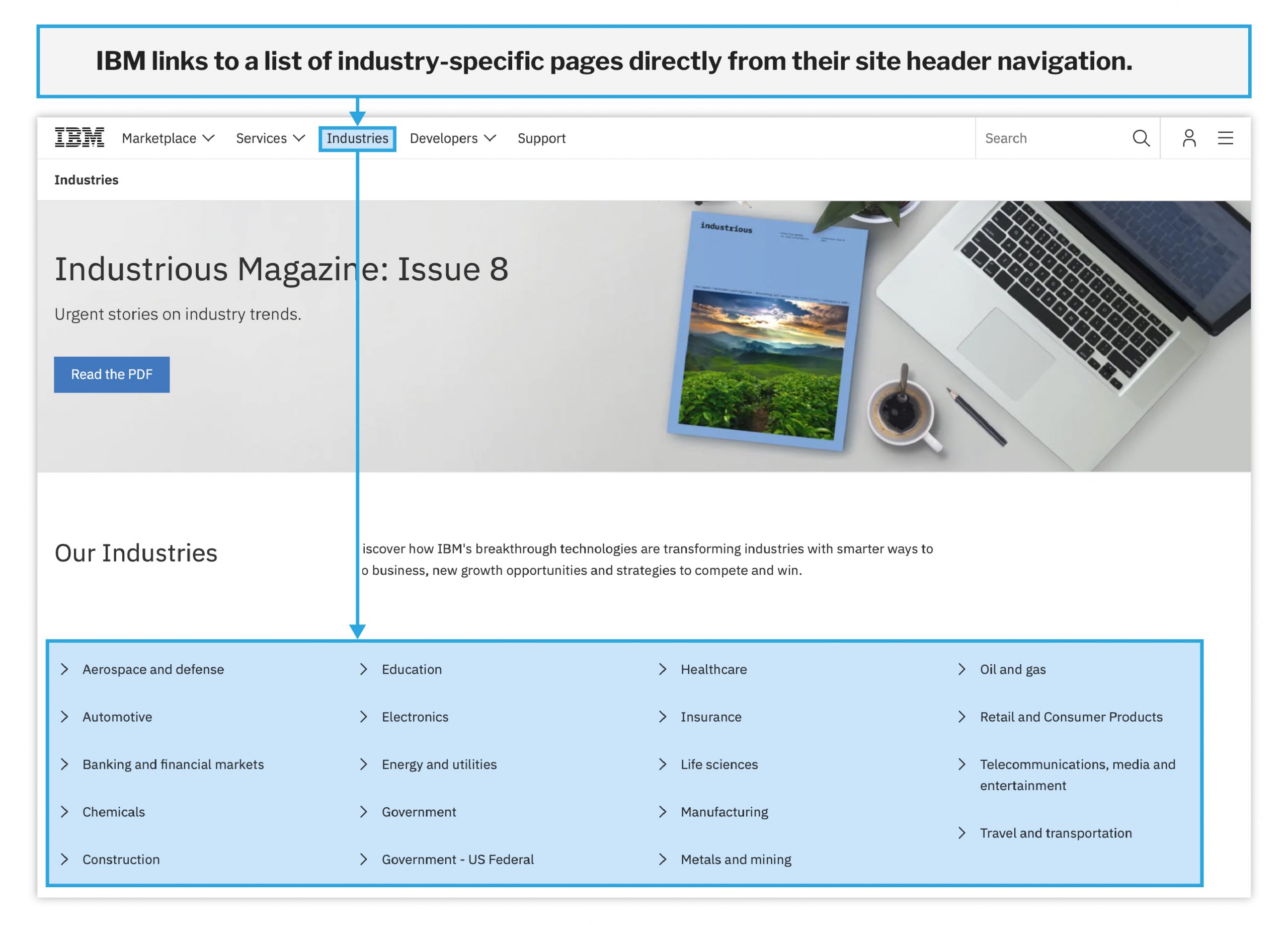 Other companies might list links to these pages in their site footers—and some keep the pages out of their general site navigation.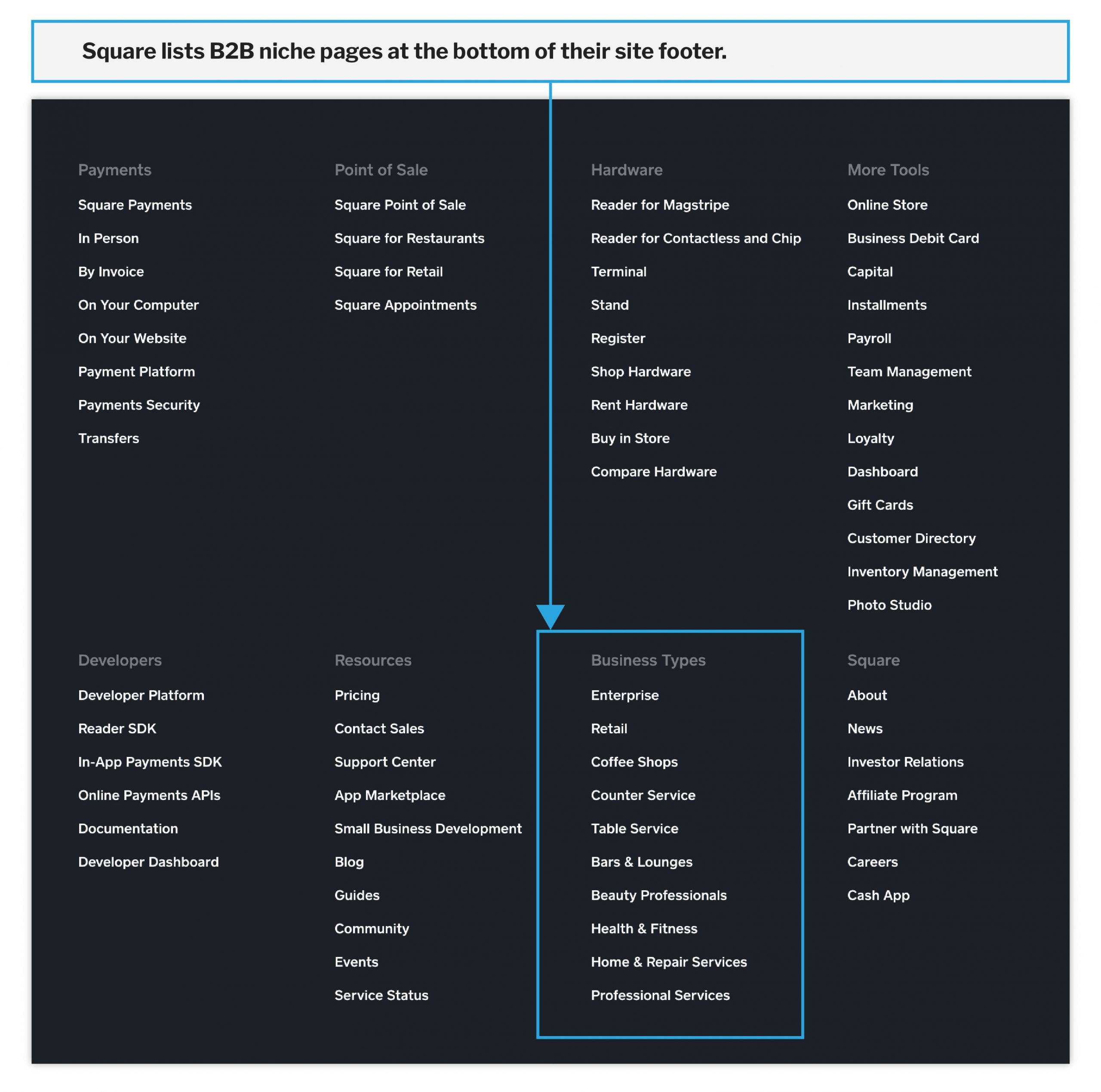 Examples of industry pages:
IBM (categories: LOL they're IBM). They're such a big company that they not only have industry pages, but they have industry-specific solutions pages! As a startup you're unlikely to need (or want, or afford) to create so much industry-specific content. But this gives you an extreme idea of how these types of pages work.
Square (category: POS software). I've highlighted their page that's specific to bars and cocktail lounges—it front-faces two Square products that clients in this industry use, and explains how Square helps bar managers.
4. Definitive guides
These are the long-form educational content pieces that teach your audience about your category. These pillar pages take a broader approach to your category than a product overview page. They can take many forms, but usually share three sections:
What is the category (e.g., B2B SEO, sales enablement, etc.)?
Why is it important?
How is it done?
Guides are key in the product category SEO strategy, as they're typically the type of content that ranks for the high-level category searches. They're traffic magnets, and you can siphon that traffic to product pages, case studies—really any kind of content that helps build more interest in your particular product.
Guides are versatile and can live just about anywhere on your site. Some brands link to their flagship guides in their header navigation, some put them in the footer, some publish them as standalone pages (like Marketo), and some just publish them on the blog (like HubSpot).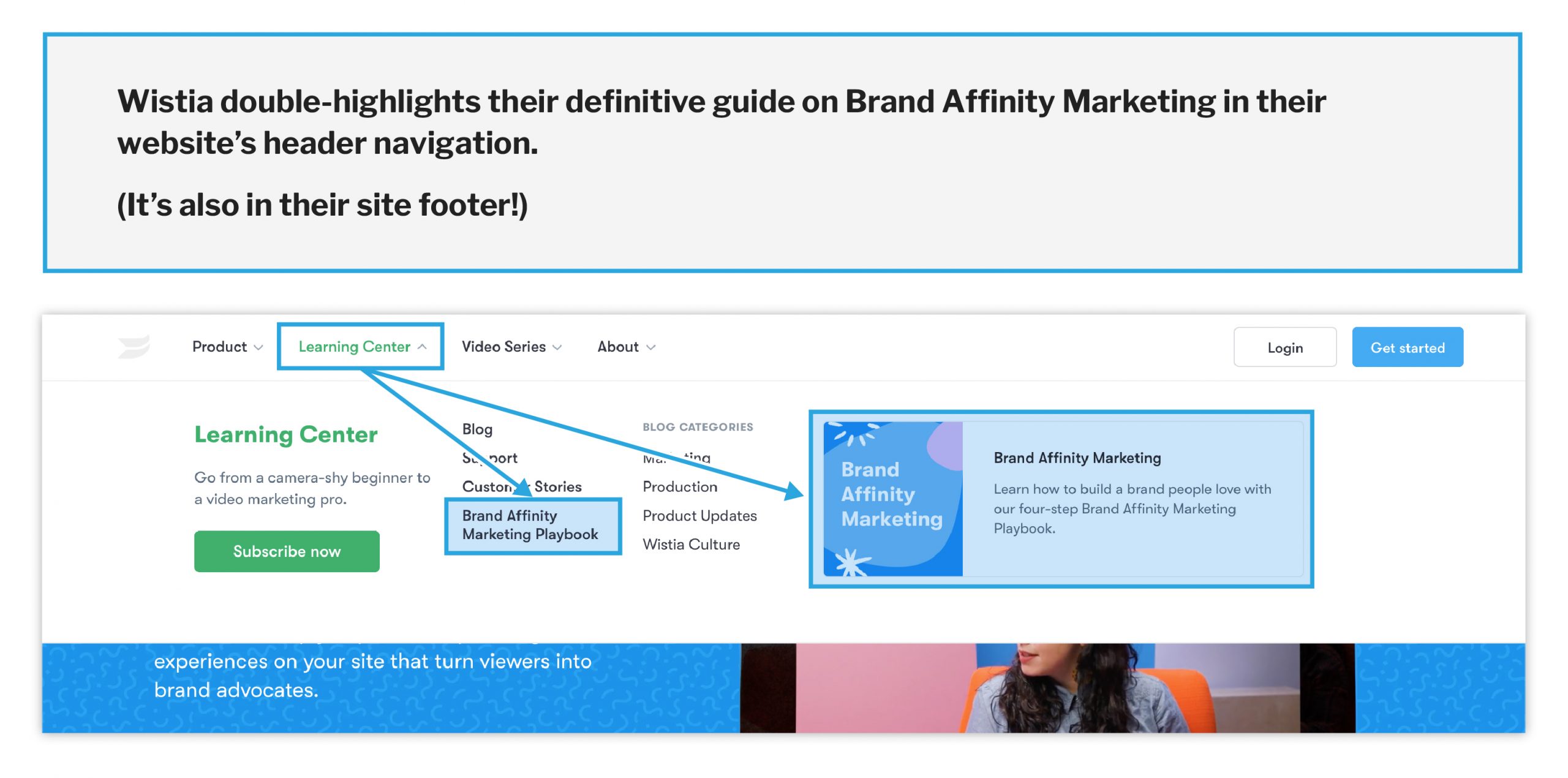 Examples of definitive guides? I introduced them at the beginning of this article!
MailChimp (category: email automation). MailChimp is a giant player in the email marketing software space, so they have guides on multiple product categories. At the beginning of this piece I highlighted how they rank #1 for "email automation"—this guide is the specific piece that shows up in Google's SERPs.
HighSpot (category: sales enablement). HighSpot, on the other hand, has one flagship definitive guide with several supporting articles ("chapters") in the same website subdirectory.
5. Feature pages
These pages are somewhat like sub-product pages. While product overview pages give people a high-level understanding of what your product has to offer, features pages get into the details of what your products are capable of.
It might be helpful to note that I'm using the word "features" in a slightly broader way than your product manager might use it. For product category SEO, a feature page could center on one very, very specific capability of the software. But a feature page could also highlight one broader tool within your product.
Some sites put links to their product feature pages in their main navigation. Others put them in the site footer or header nav—and some don't give them that kind of exposure at all.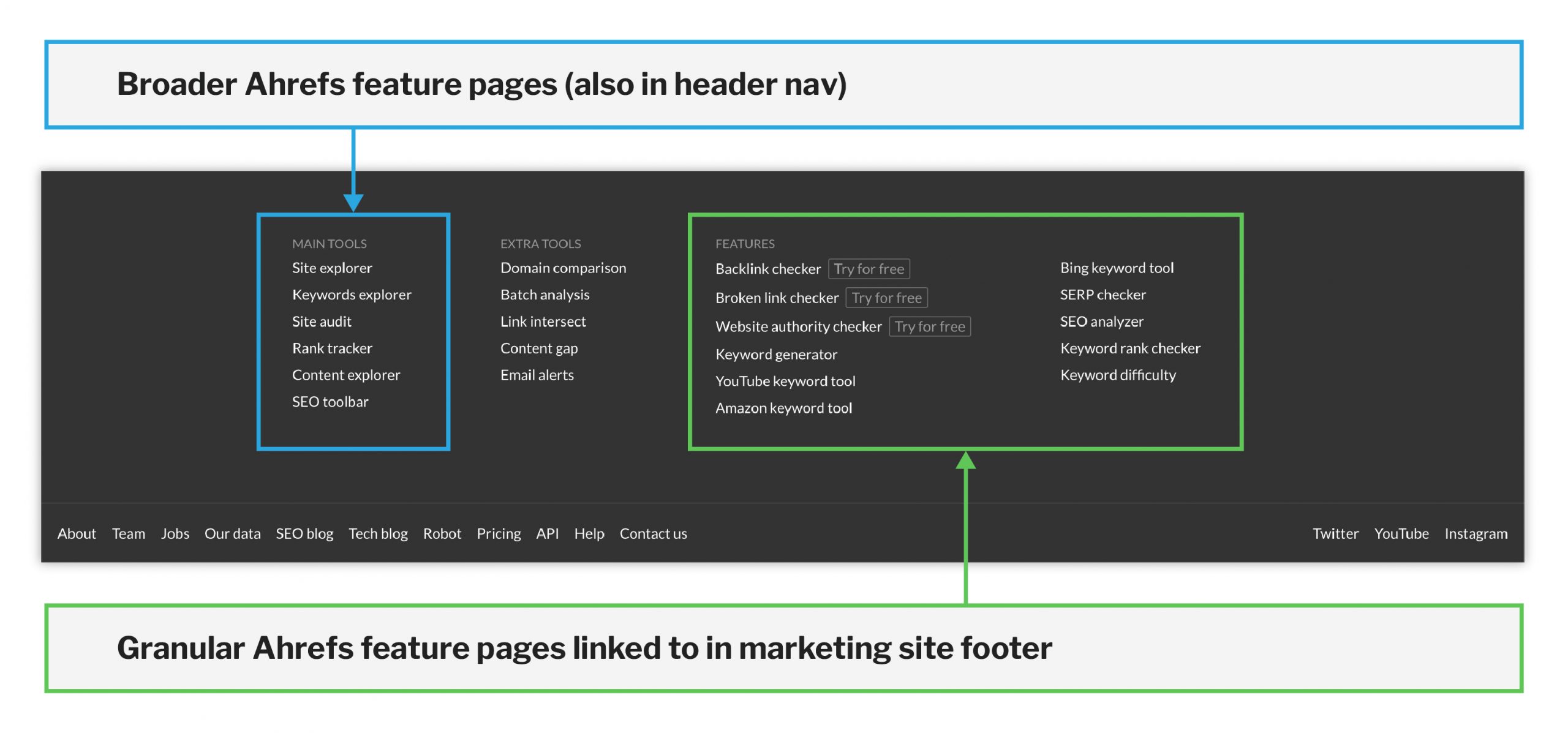 Examples of feature pages:
Ahrefs (category: SEO software). Their backlink checker feature page is a stellar example that incorporates a free version of the feature plus a full description. This feature page alone accounts for about 6% of their organic traffic (according to them), and ranks #1 for "backlink checker" and "check backlinks."
BambooHR (category: HR software). Their employee Net Promoter Score tool gets a page to itself, and explains how this feature helps managers maintain and grow employee satisfaction.
6. Case studies
These are obvious, right? A case study tells the story of how your products helped a specific customer. These aren't just great for sales—they're also goldmines for internal links to and from the rest of your product category SEO library.
7. Comparison pages
Another obvious ingredient in your product category SEO library. These are helpful for people who are considering their options in your product category—the people Googling "You vs The Other Guy."
An example of a great comparison page is Gusto's. They lay out their features against their traditional contenders', plus at the bottom of their page they briefly compare themselves to other prominent HR software companies.

Putting them all together
You'll notice that these page types tend to approach your product category from three different angles.
Product-first. You have pages addressing the category from a product standpoint: here's what we do, and here's how it works. Product overview pages take this approach.
Problem-first. Some pages address a problem that many businesses need to solve, and then explain how your products solve them.
Customer-first. These pages are all about the particular customer's needs. They're geared to map a specific industry or niche to your brand's offerings.
Three of these page types that we've described fall pretty handsomely into one circle each: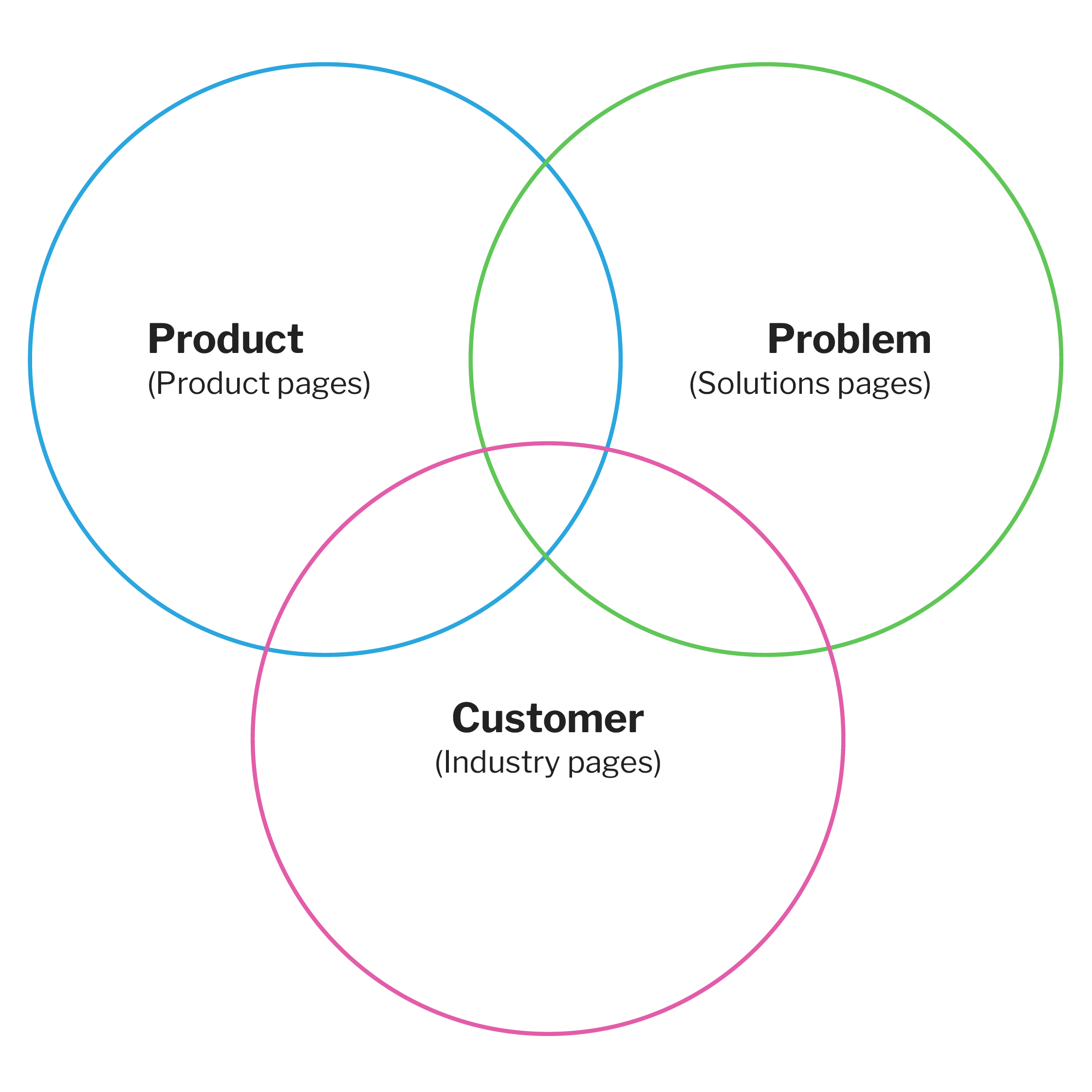 And the rest of these pages tend to live in the overlaps between these focuses. For example, feature pages describe how specific functions of a product solve certain problems. Case studies often tell how your product helped a certain customer. Definitive guides describe the category as a whole to the customer, so that they can understand how to solve their problems with products like yours.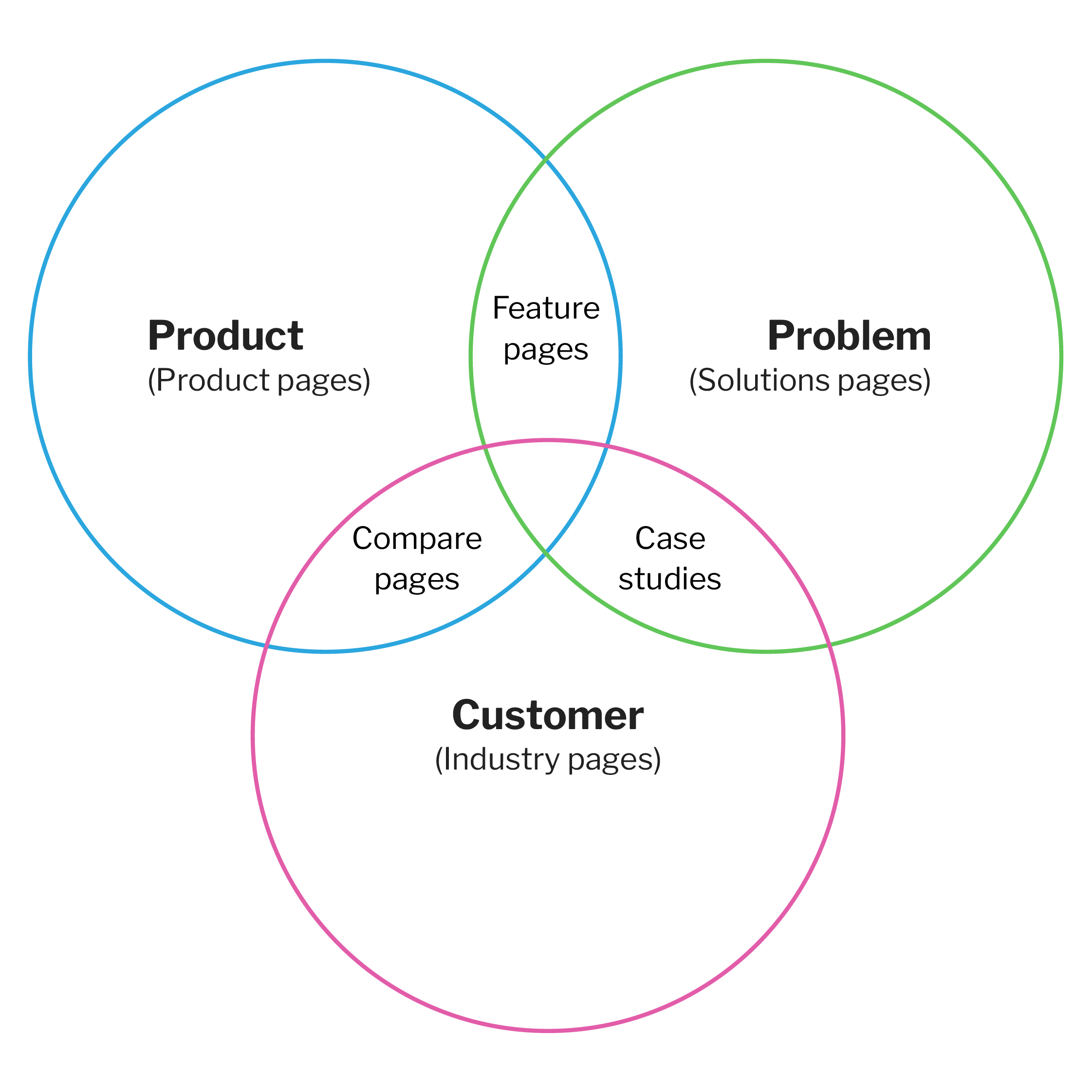 This is going to (roughly) map to the three approaches people take to understand your product category. They'll want to understand the product itself, they'll want to understand the problems they're trying to solve, or they'll be looking for a vendor with plenty of experience in their industry.
Your job is to make it easy for people to learn about your product no matter their approach. And this is going to boil down to two basic content strategy disciplines:
  You need to know what your potential customers are Googling so that you can focus your energy on making the pages that matter most.
Internal link building. You cannot let these pages live on their own. Each of these pages should lead people down a logical path to identifying themselves as leads. And each page should link to any of the other product category SEO pages when relevant. This not only gives your readers a better experience on the site, but it also signals to Google which pages are authoritative on certain topics.
The process of building internal links sounds simple at first. But it's common for startups to start strong with internal linking, only to abandon the practice after a few months. Two chief obstacles to building quality internal links are content sprawl (publishing content that is increasingly irrelevant to the product category) and simple forgetfulness.
Content marketers often forget about relevant pages they've already published. This means the forgotten page doesn't get any internal links—and it also means that the forgotten page doesn't link to any new pages!
You can see how content sprawl speeds up the process of forgetfulness. The broader your content library becomes, the harder it is to draw sensible connections between your pages, so you're more likely to forget when there's something you should link to.
This is one reason why focusing on product category SEO is such a smart move for B2B startups. By concentrating on building a small foundation of pages about your product category, you don't have these distractions.
There's a simple way to think about internal links that smart startups use: we call it the Link Lattice.
Start with a Link Lattice
The Link Lattice is a simple way to visualize how your product category SEO pages should link to one another to set them up as traffic magnets.
Step 1: Start with your product overview page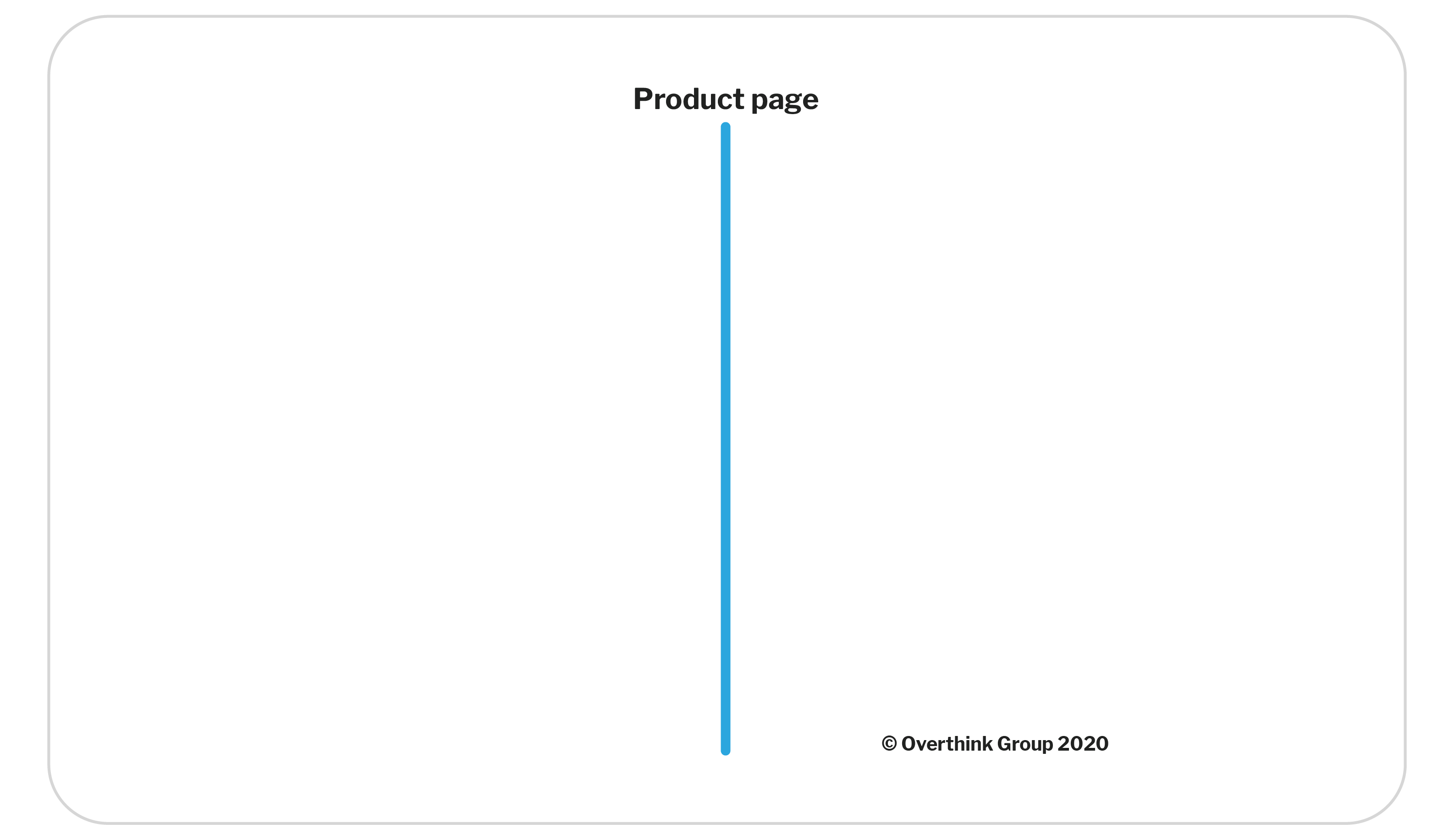 Pick one page to be your main product overview page. This page should be the authoritative, comprehensive look at your product. If you have a single-product startup, this might be your home page.
We have an entire cheat sheet on how to optimize your product overview pages, which you can check out here.
Step 2: Link to that page from your definitive guide
Now, make sure that your definitive guide (if you have one) links to that page. You might link to it in the guide's introduction, you might link to it as your call to action. You might do both—either way, it's important that your definitive guide links to that core product overview page.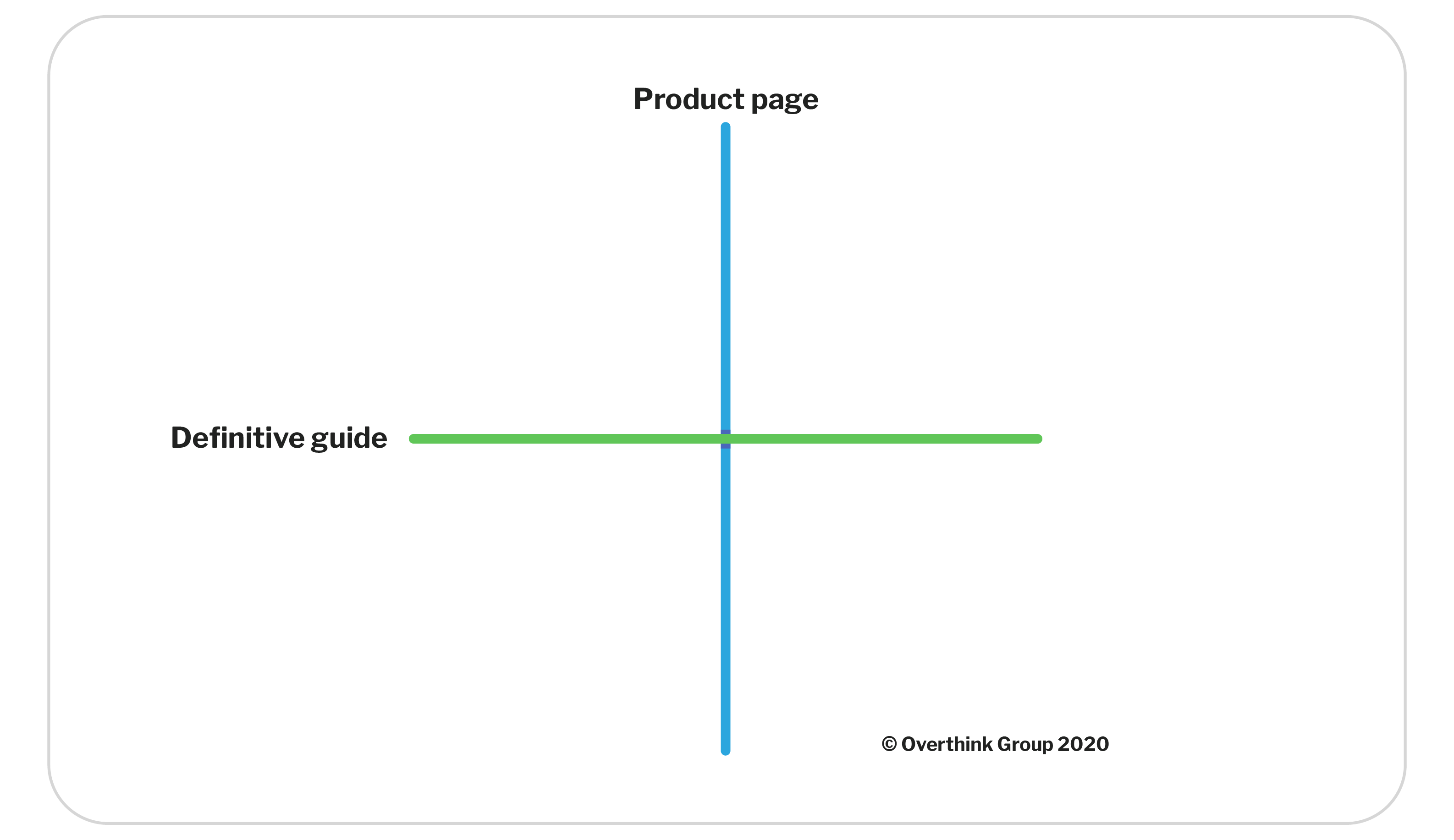 This is key, because your definitive guide is likely going to be your lynchpin for setting up the rest of this library with organic search traffic. Since this is the page that should be ranking for those broad category-level search terms, it's going to get more exposure in the SERPs than most of the other pages here. It'll also typically attract more backlinks than a product page, and be an easier target for any link-building efforts.
The definitive guide is going to be doing a lot of heavy lifting—make sure that energy is going toward the page that counts.
Step 3: Interlink your solutions pages with your product page and definitive guide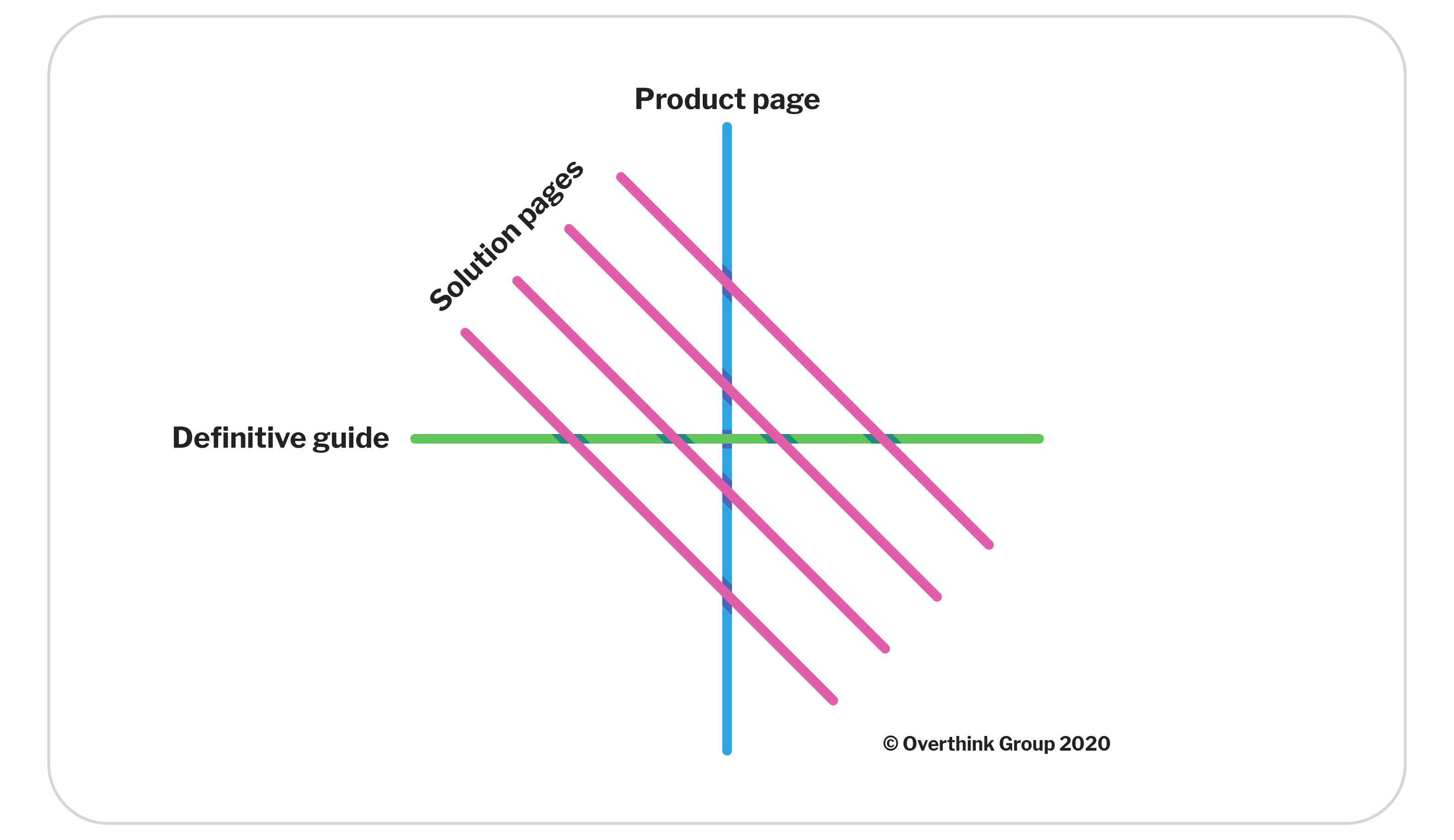 These solutions pages should be able to very naturally link to your product page—after all, they're describing the wonderful things that will happen if someone uses it! Solutions pages can end with their own call-to-action forms, but somewhere on each solutions page, you should link back to the product page.
In addition to this, since your solutions pages will focus on the problems associated with the category, it makes sense to add internal links to your definitive guide, too. These links probably shouldn't be a heavy call to action—you don't want to unnecessarily divert product interest toward the general category! But a simple mention of the guide is both useful to less-informed readers and helpful when it comes to building internal links to the definitive guide.
Lastly, your product overview page and definitive guide should introduce the problems that your product solves. When they do, link to the solutions page and tell the readers that they can learn more about how your brand solves these problems.
Step 4: Interlink your industry pages with your solutions pages
Now it's time for the industry pages. Because these pages talk about how your product helps specific niches, it should be very easy to link to your product overview page for them to learn more.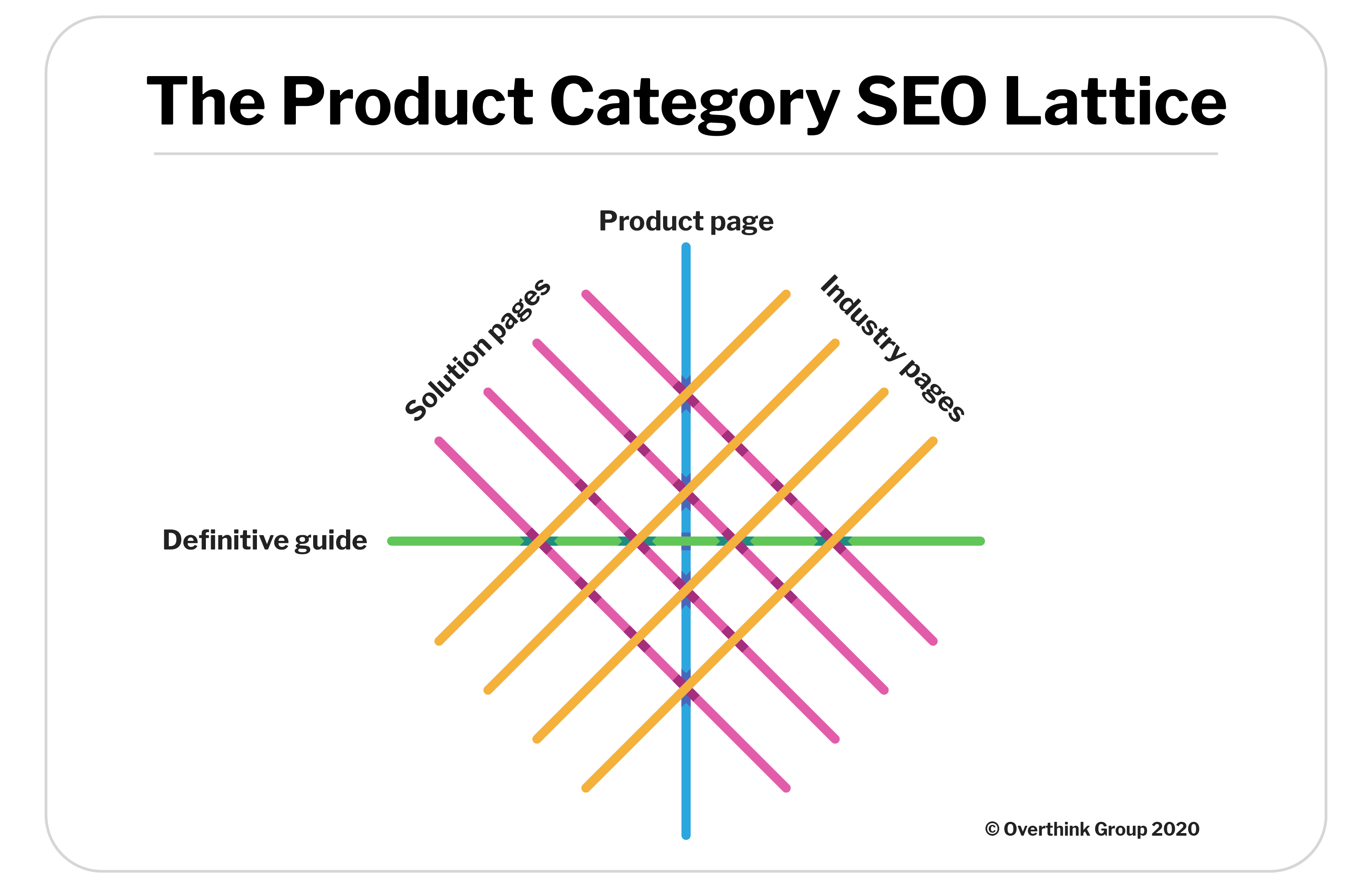 And since most of the specific problems listed on your industry pages will map to one (or more) of the more general problems you solve, make sure each industry page links to every solutions page. (Within reason—obviously don't link to an irrelevant page!)
It's not entirely necessary here, but linking to the definitive guide is usually a good idea on industry pages, too. It probably shouldn't be a prominent ask, but it's a good way to demonstrate your expertise in both the specific industry and the category as a whole.
Why this works
If you can have this general framework in mind, then you'll be instinctively accounting for those three approaches to your category: product-first, problem-first, and customer-first. This framework makes it easy to visualize how your library of product category SEO fits together, and highlights places where the other common types of pages can play a hand. (For example, every point at which a solutions and industry page overlap represents a case study opportunity!)
How to make it happen
Once you understand how product category SEO works, the question of who should be responsible for it naturally comes to mind. Here are a few common ways B2B companies address this SEO discipline:
Assign it internally. Designate a strategist, a writer, a designer, and a Web implementor from within your existing staff to plan, create, and/or revamp the necessary pages for a product category SEO strategy.
Hire a team to do it in-house. Bring on the internal talent you need in order to make this happen.
Contract an outside expert. Hire an agency to outline what pages need to be created or revamped, and then collaborate on executing the plan.
In case you haven't guessed, we're great at helping companies who choose option #3. 😉
Whatever you choose, when executed effectively, product category SEO will bring in more high-intent B2B traffic to your website—and supplement your paid marketing efforts in an evergreen way.
Lots of SEO and content work can be a waste of time for B2B startups, but product category SEO is efficient, smart, and directly contributes to growth—even in the early stages.
Invest in product category SEO, friends. You'll be glad you did.