Your solutions pages are where you answer the question, "What problems does your SaaS product solve?" you will likely have several solutions pages per product: one for each high-level set of disciplines you help your customers master. The solutions page is a complementary type of page to your product overviews, and it's a key component of building a product category Link Lattice.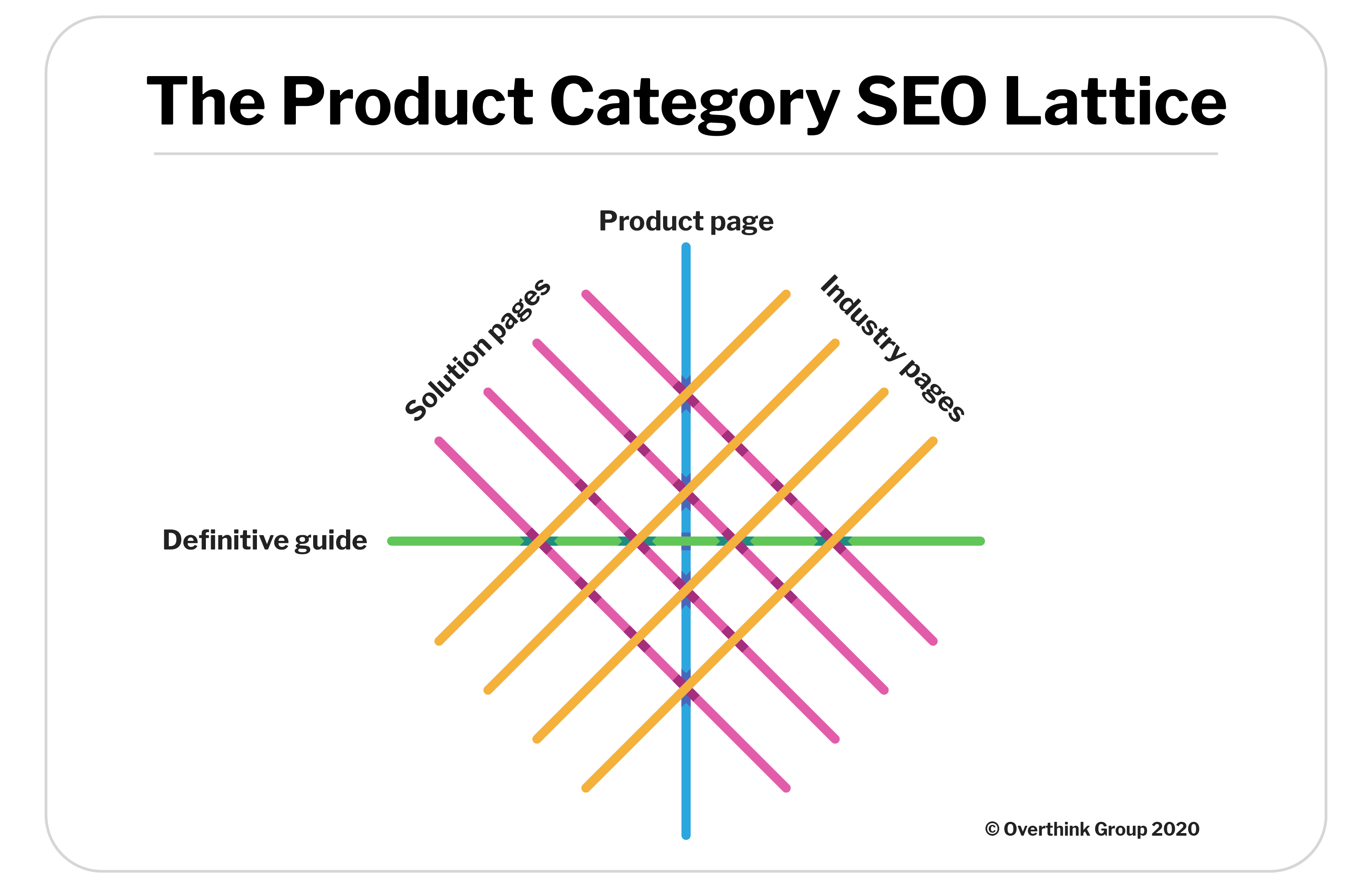 These sorts of pages are very common on B2B SaaS websites, especially for very technical products, or for brands that bundle multiple apps together based on what customers need. A few examples include:
On their own, these solutions pages are play a key role in educating your website visitors about your product, and they make for some good high-level sales enablement talking points. But if you get your solutions pages to work together in the greater conext of your website, they can also become powerful support players in your SEO strategy, too.
Here are nine ways you can set up your solutions pages to bring in more organic traffic, both to themselves, and to other important pages on your site.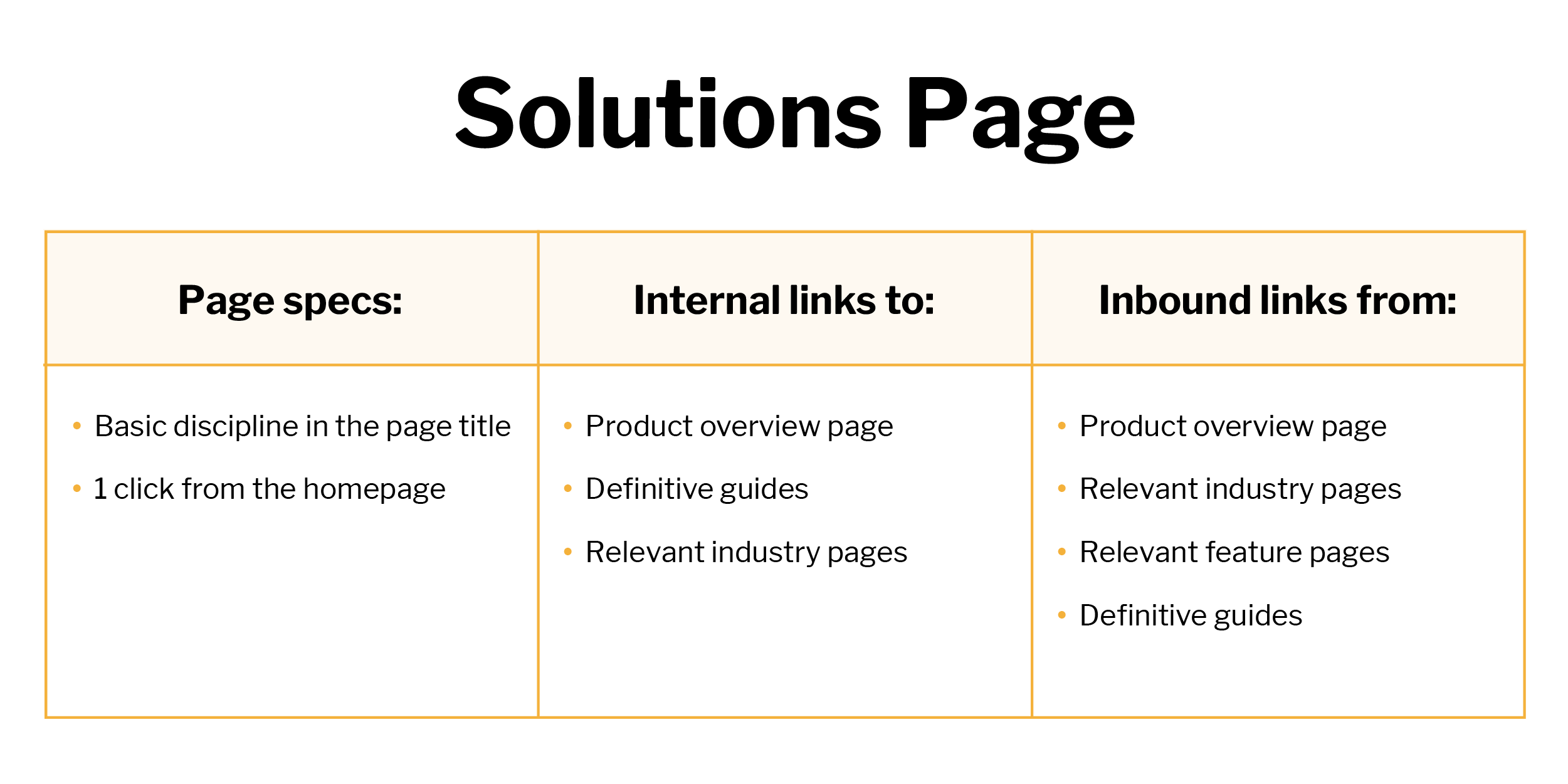 1. Mention the basic discipline in the page title
Odds are that a given problem set folds into one general discipline. For example, Marketo has a solutions page that deals with the following problems an email marketer faces:
Not knowing specific contact information and history
Needing to automatically send emails when a contact takes a specific action
Automatically testing email variants
Reporting on email performace
… and Marketo addresses them all on a single page devoted to the discipline of "email marketing."
You can do the same with your solutions pages. Think of these as landing pages dedicated to the subcategories of your product. You might sell a single, comprehensive building automation system, but you could have solutions pages on "water management" and "indoor air quality."
Having these terms in your page titles helps you in a few ways. First, it signals to Google what that page is all about—and it gives you an edge in ranking for those more solution-specific searches. Second, it gives searchers a good description of the page if it's pulled into site links (see below). Third, if you follow the Link Lattice technique, it shows Google that your product overview pages and definitive guides are interlinked with pages that are focused on relevant subtopics in your category.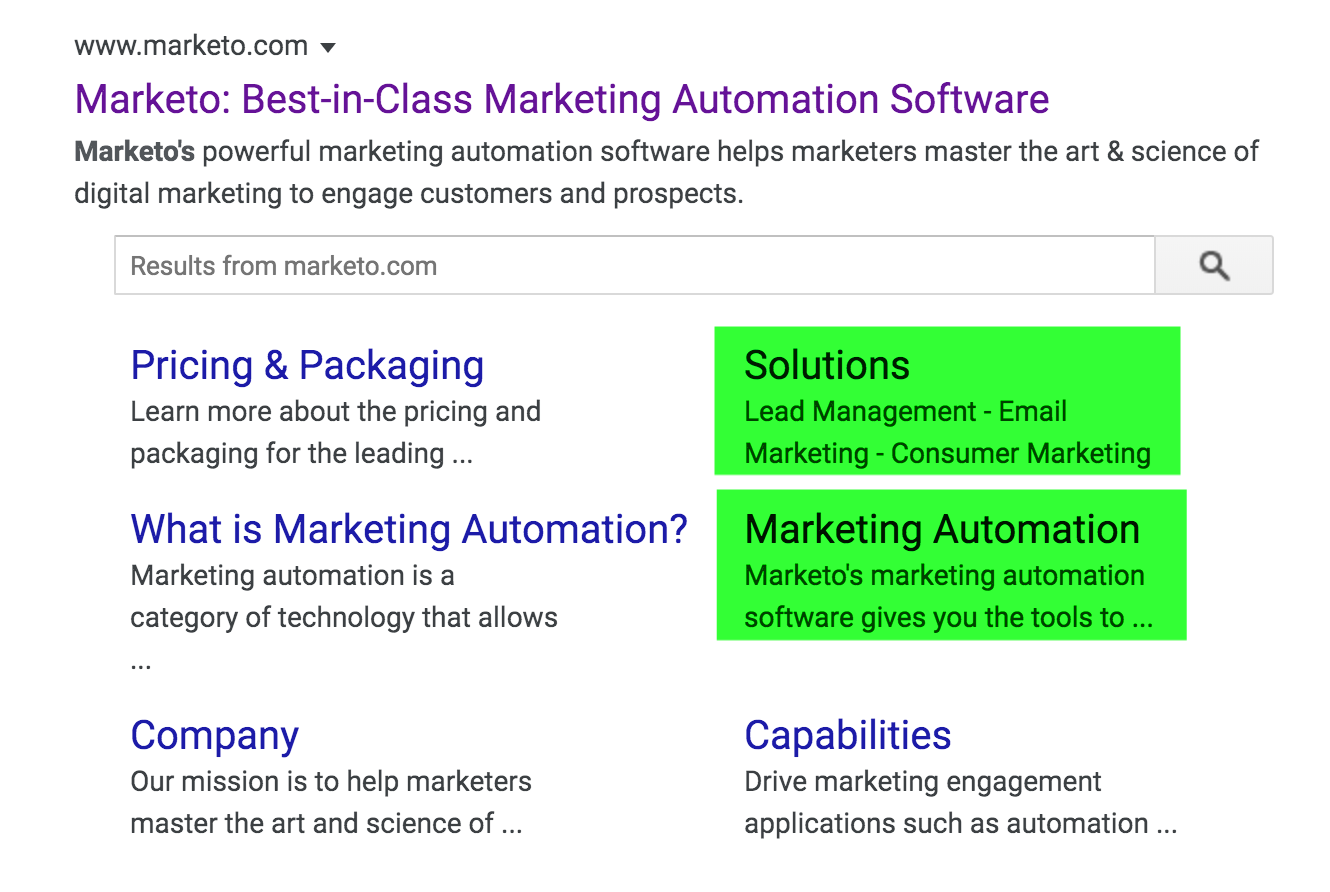 2. Make it one click from your homepage
"Page depth," the number of clicks it takes to get to a given URL from the homepage, is something that Google considers when ranking pages on a given site. To Google, the page a user can click to straight from the homepage is probably more important than the page that you have to poke around the site to find.
Your solutions pages are important means of educating your audience, and they're a hotbed of relevant internal links, which we'll get to in a moment.  So make sure they're all easy to access from the homepage. (It's common to stick these into the header or footer menus of your website.)
3. Link to corresponding product pages
From an SEO perspective, this is a no-brainer. Your product pages are arguably the most important sales pages on your site, and so any other high-profile page should probably link to it. If people are reading about the problems your product solves, they should have an opportunity to check out your product.
This might seem counterintuitive, especially if your planned customer journey assumes that anyone who reads the solutions page already has a high-level understanding of the product. But if you're setting up these pages well, there's a good chance that people will find these pages directly from search, or via internal links from definitive guides and blog posts, too. There needs to be a way for these folks to quickly get an overview of what your product is or does.
This doesn't mean your call to action on solution pages needs to be to go to the product page. It just means that if someone's on a solutions page, they shouldn't be more than one click away from getting an overview of everything the relevant product(s) can do.
Again, linking your solutions pages to your product overview page should be obvious enough to go without saying, but it's best to make sure you've done this.
4. Link to definitive guides
If you've published a definitive guide on this discipline, make sure that this solutions page links people to that page. Again, it doesn't need to be the main call to action, but it's generally a good call to give those definitive guides as much link love as you can from relevant pages.
5. Link to relevant industry pages
If you're especially known for solving a certain problem in a few specific industries, link to their respective industry pages from the solutions page. Not only does this help your readers educate themselves on your product's contributions to the industry, but it also gives those industry pages some relevant internal links.
6. Link to the solutions page from relevant product pages
Your product page should give readers an overview of what your product does. So when you mention the problems your product solves, use that as an opportunity to link to your solutions pages.
Think of your product page as where you answer the general what questions. What does it do? What problems does it solve. What new things will your customers be able to do with your product? Answer these questions at a high level—then give your readers a "learn more" link to your solutions pages, where they'll learn how.
7. Link to it from relevant industry pages
Your industry pages will likely list all the major solutions your product provides to a certain vertical. When you mention those solutions, go ahead and link to the pages where the people can learn all about them.
You don't need to break the flow of these pages to do this. You can add a link by simply giving readers an option to "Learn more about how we help our customers with [problem]."
8. Link to it from relevant feature pages
Feature pages will drill into specific sub-product capabilities of the SaaS product. These features should map to general solutions, and when they do, it makes sense to link to those solutions pages. This is another opportunity for a simple "learn more" link.
9. Link to the solutions page from your definitive guides
This should be a very natural internal link—one that hopefully would occur whether you knew it was a good for SEO or not. A definitive guide generally covers three general aspects of a subject or discipline:
What it is
Why it's important
How to do it
Your solutions pages give readers an overview of how you help people do something—so it should be pretty easy to link to these pages in that third section of your definitive guides.
Why does this work?
By intentionally interlinking your pages, you accomplish two things:
You make it easy for visitors to navigate your site and learn about your products, no matter how they get there.
You make it easy for Google to see which pages are most important on your site.
To learn more about how these and the other pages fit together, check out our complete guide to product category SEO.