This article was originally published in 2017, and is periodically updated. If you're reading up on Casper's content marketing, you should also check out our 2019 teardown of Purple's SEO strategy.
Ten years ago, you bought mattresses at the mattress store. And it sucked.
It was crazy expensive.
It was awkward.
And getting your mattress through the doors, up the stairs, and around the corners to your bedroom was a pain.
Casper changed all this: they made a foam mattress, packed it in a manageable box, and delivered it to your door (without the middleman retailer markup). They're not the only direct-to-consumer mattress-in-a-box company, but they're the most famous. In their first three years, they made more than $300 million in revenue. (Some of which came from me.) They finished 2018 with about $370 million in revenue, and they're valued at $1.1 billion. Sheeesh.
And their content plays a fascinating role in that growth.
We took a look at their content marketing activities—and found some fascinating takeaways to share.
In this report, you'll see how Casper:
Here's what we examined:
Casper.com
This one's the moneymaker. It's an ecommerce site where all Casper's business takes place. This is where people purchase mattresses, pillows, and other nighttime paraphernalia. We're going to look at how Casper attracts organic traffic with content.
Pillow Talk
This is the official Casper blog, docked on a subdomain of Casper.com.
Van Winkle's
[UPDATE: As of July 2018, VanWinkes.com redirects to Casper.com, and as far as I can tell all this content is gone. That strikes me as a huge content marketing fumble—you'll see why in this teardown.]
In addition to Casper's product-centric blog, they also ran Van Winkle's, a now-retired online magazine that specialized in some of the most interesting sleep-oriented content the internet has to offer. So while Pillow Talk focuses more on content with a direct tie-in to the mattress, Van Winkle's produced a broader range of content about sleep in general. In November, Casper put Van Winkle's to bed and unveiled their newest publication …
Woolly
While Van Winkle's was focused on sleep, Woolly is a print and digital publication focused on comfort, wellness, and modern life. Launched in November, Woolly has already published articles in defense of cancelling plans, dressing down for air travel, and sloth itself. It's a bold move, and if executed well, a brilliant one. More on this later.
Let's dive in, folks.
Content marketing on Casper.com
You hit Casper's site and you're greeted with a simple value proposition: Casper is engineering a better night's sleep for you.
The home page walks you through Casper's product offerings, maps out some brand distinctives, and highlights customer reviews. Most of the site focuses on selling products: mattresses, sheets, pillows, etc.—which means there's not a great deal of conventional content marketing going on here.
But there are a few content marketing lessons you can learn from this domain—specifically by looking at where their traffic comes from.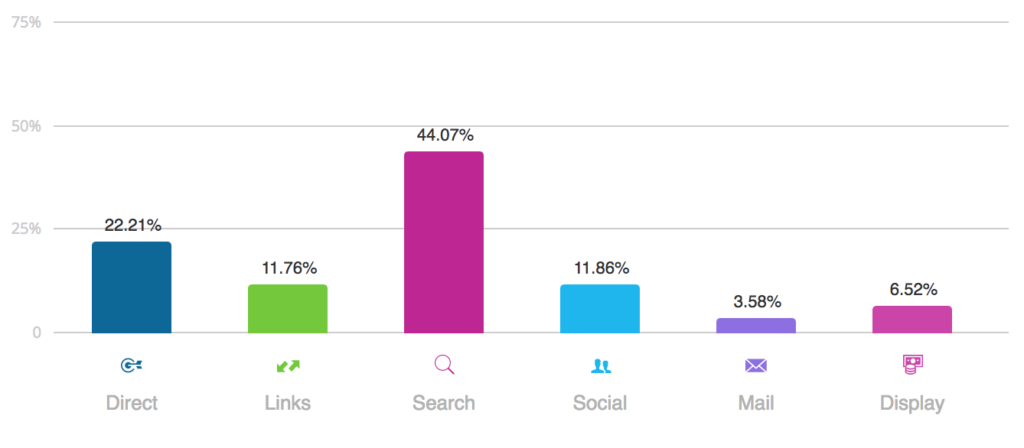 You can see that almost half of Casper.com's traffic comes from search engines. Let's see what's driving that.
Now …  most of that traffic is paid. In one of CBInsights' recent articles on B2C startup growth, they speculate that "a good amount of the $240M [Casper]'s raised has gone back to Google over the last few years."
Spyfu's data backs that up. While Casper isn't spending nearly as much on Adwords as they used to, they're still forking over more than $40,000 a month.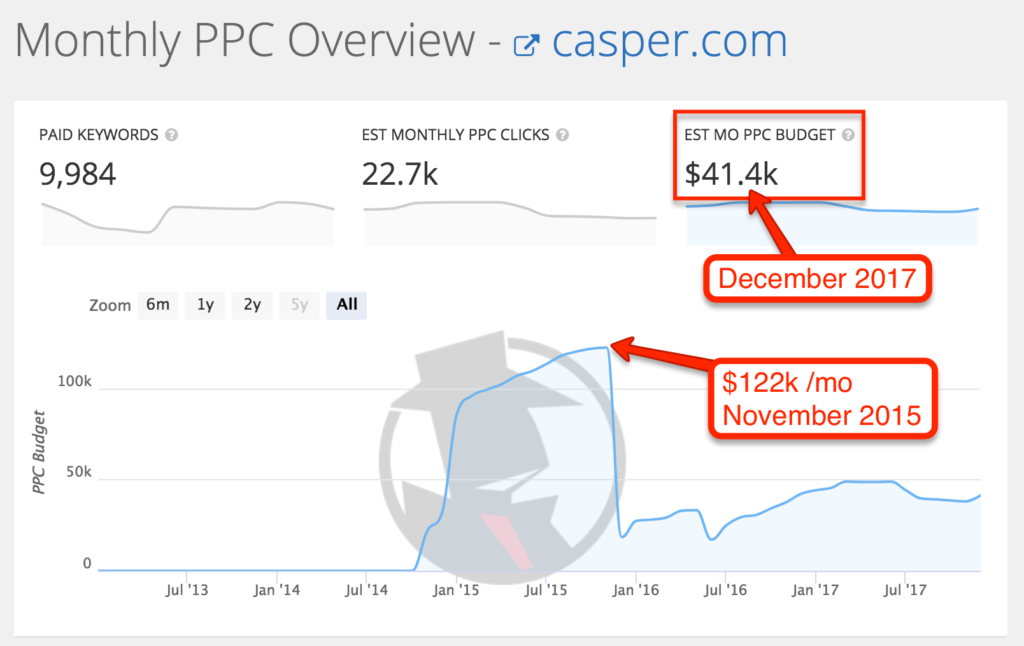 But don't let Casper's big ad budget fool you. They're still engaging in smart content marketing that anyone can emulate. In fact, there are two big lessons that anyone selling big-ticket consumer items can learn from Casper.
Takeaway 1: Build a brand that people will Google
According to SEMrush, 76.93% of Casper's organic traffic comes from branded search queries. That means the majority of Casper's search traffic is a result of people Googling terms like "Casper" or "Casper mattress." There were about 110,000 monthly Google searches for simply "Casper" in 2017—and Casper.com is the #1 result.
Not everyone searching "Casper" is looking for a mattress. Some are looking up the friendly ghost. Some are reading about Wyoming's second-largest city—which happened to be a really great place to watch the eclipse in August 2017.
Still, Casper has built a strong brand. They've flooded the internet (and New York subways) with brand messaging, so when Americans think of buying a new mattress, they Google the word "Casper."
But Casper gets nonbranded traffic too
In addition to branded search, Casper pulls a good deal of search traffic to their mattress size comparison guide. This page breaks down the various sizes of mattresses available—which is a smart move on Casper's part.
Through this page, people who are curious about mattress sizes end up on Casper.com—where they can encounter the Casper brand and learn about their approach to engineering a better night's sleep. These are folks who may not have even considered buying a mattress online before.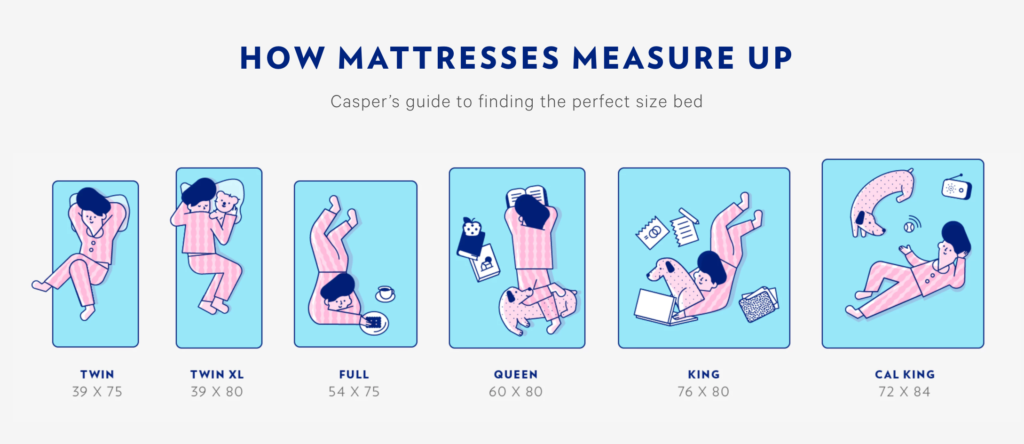 Casper's page currently ranks #4 in the US when you Google "mattress sizes." And they're not the only mattress company competing for this sort of search. The three results above Casper are all from sites owned by or associated with MattressFirm.
Takeaway 2: Answer the simple, obvious questions about your product category
You can do this, too. Find the "stupid" questions that people have about your product category, and answer them in engaging ways. If you create content that answers those questions well (and promote that content well), you can outrank the giants in your industry.
Content marketing on Pillow Talk: the Casper Blog
Heads-up: From an editorial standpoint, this isn't where Casper shines. (We'll change our tune when we get to Van Winkle's and Woolly, though.)
You can quickly figure out what Casper's Blog is about: Casper products. Some of this content explores the science of sleep—a natural layup for talking about their products. Some of the posts are roundups of sleep-related articles from around the Web. Some are entirely promotional. All of them are brief (the longest blog post published in 2017 was only about 680 words).
Where does Pillow Talk's traffic come from?
Search and social are the main traffic drivers for Pillow Talk. According to SimilarWeb's data, more than half their blog traffic is coming from search engines and social networks. Let's see what's going on here.

When it comes to search traffic, there's no news here. The articles driving the most traffic from search engines are ranking for certain niche searches surrounding sleep. For example, their blog posts rank for terms like:
Granted, some of these posts take a more scientific approach than others—the last two in the list above are humor pieces.
No surprises with social, either. Here's a look at the most-shared posts on Pillow Talk in 2017: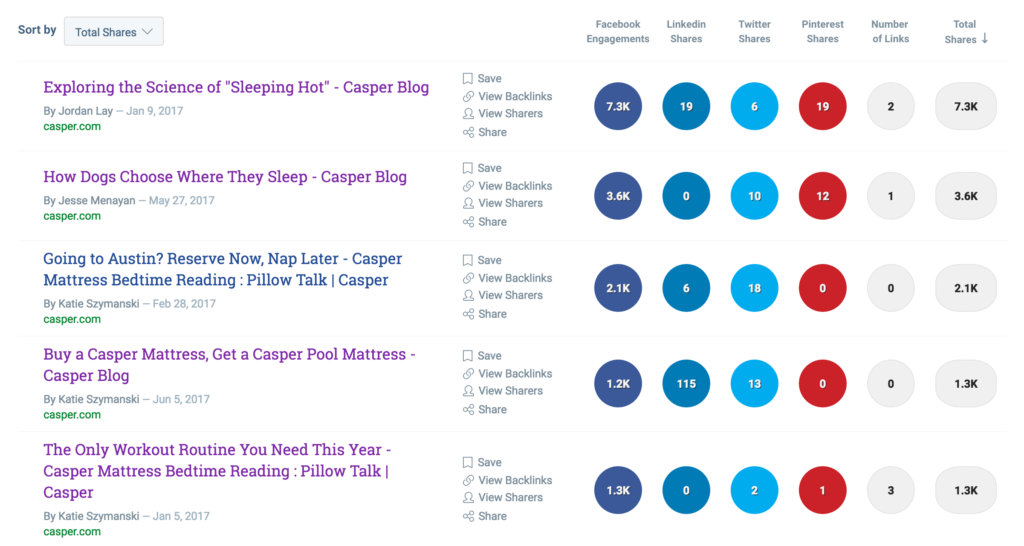 The shares are rather self-explanatory: Casper is publishing content that either gets people curious (how do dogs choose where they sleep?!) or gives them opportunities to further engage their brand (a free pool mattress, you say?).
That's just a summary of their most-shared articles. The average Pillow Talk blog post in 2017 got 577 shares.
Pillow Talk appears to have gone through stints of using the blog as a landing-page builder for at least one offline campaign. That means you might find blocks of duplicate content like this: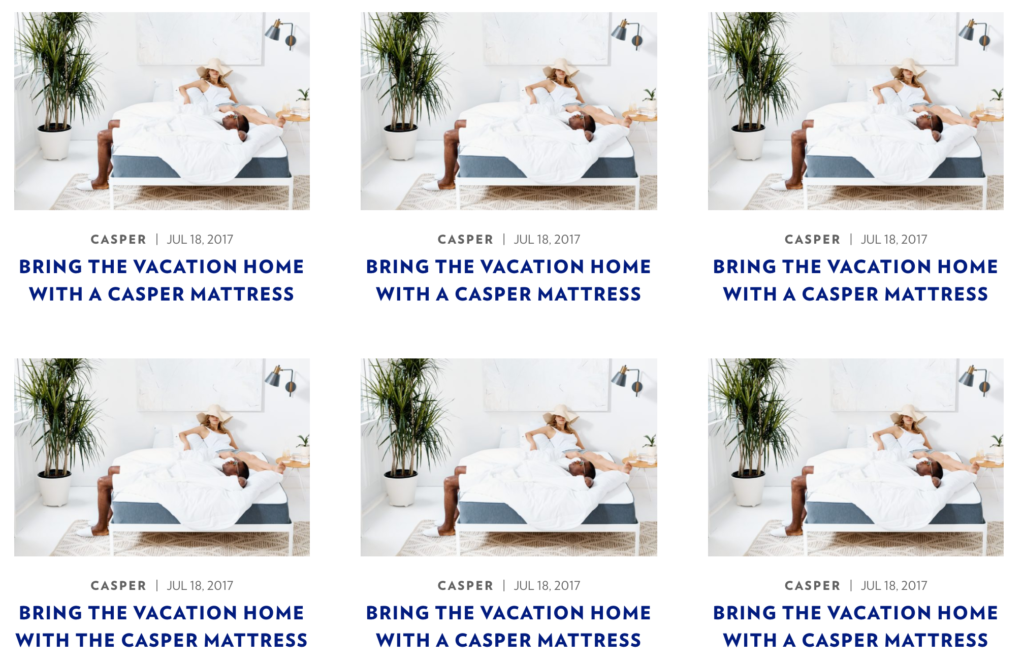 But that brings us to the biggest lesson you can learn from Casper's Pillow Talk:
Takeaway 3: Give every piece of content a job
When you look through the Pillow Talk blog (and the properties we're about to explore), you'll have a hard time finding a post that isn't driving people to do something. Sometimes that's a product link in the middle of a playful listicle. Sometimes it's a button directing people to learn more about the product in question.
They've even used blog post CTAs to drive market research: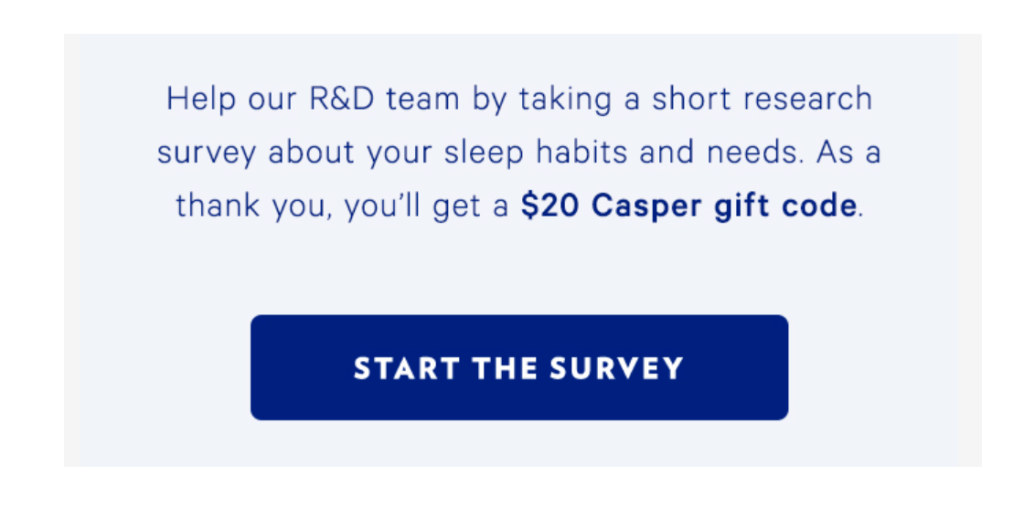 Your content should do the same.
Whether you're spending millions on content or just a few thousand, you should be putting every piece of content to work for you.
Van Winkle's: a content marketer's dream
From a content marketing perspective, this is where Casper differentiated themselves from the other direct-to-consumer mattress companies.
For a few years, Casper ran the sleep blog Van Winkle's, perhaps the largest sleep journalism site on the Web. Casper put this project to rest in November 2017, telling The Wall Street Journal that it "failed to gain significant traction with readers."
Regardless of whether Van Winkle's made it as a standalone sleep publication, Casper's sleep journalism was set up to continue driving organic search traffic and build an advertising audience for a long, long time. But they killed it … which I don't know if I'll ever understand. 
Former Van Winkle's editor Theresa Fisher wrote that Van Winkle's is "a website dedicated to exploring the relationship between sleep and the rest of our lives. Whether it's sleep as it relates to science, health, family, pets, sex or travel, we're eager to learn more."
And we have a lot to learn from Theresa's work, so let's jump in.
Where did Van Winkle's traffic come from?
While Casper pays (a lot) for traffic to their ecommerce site, that's not the case for Van Winkle's. According to SimilarWeb, this site got about 84% of its traffic from search engines in December 2017—all of it organic.
No ads pulling in search traffic here.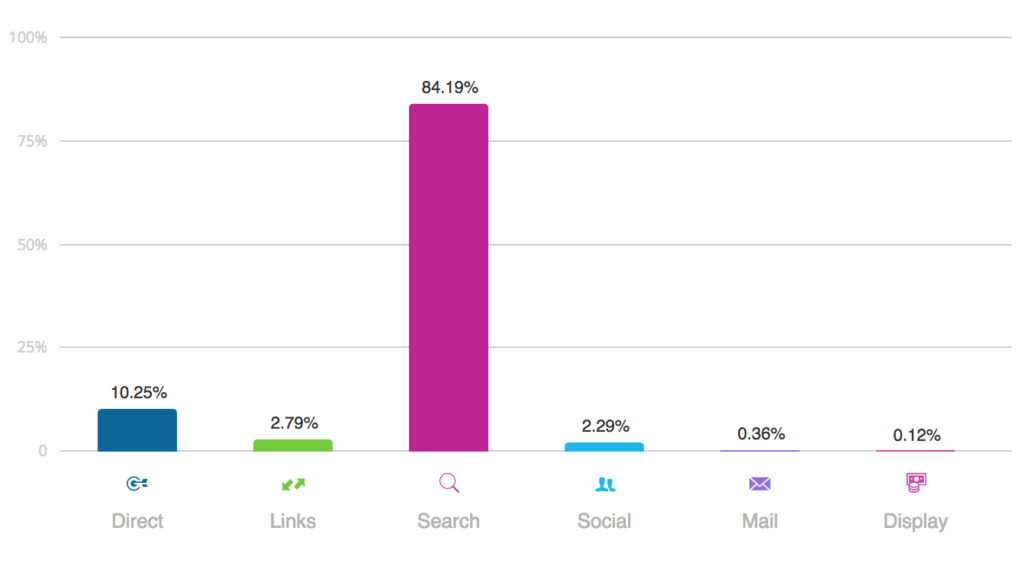 So what was driving all that traffic?
If you still could take a look through Van Winkle's, you'd find all kinds of interesting articles. The functions of droopy old-timey nightcaps. The sleeping arrangements of poly families. Experiments with lucid dreaming.
But while there were more than 950 pages on VanWinkles.com, the top 20 blog posts accounted for two-thirds of their search traffic. And the #1 blog post accounted for a solid third.
That's right. If we were to break down Van Winkle's organic search traffic into thirds, we'd find:
One third came from one article.
One third came from articles 2–20.
The rest came from the other 900+ pages.
That killer #1 article: The Dark Side and Downsides of Melatonin. It ranked for more than 1,600 Google queries, including "melatonin side effects" (ranked #2 in most Google SERPs), which got more than 22,000 searches every month alone.
The other 19 power articles covered more sleep-related problems and interests, like the side-effects of Ambien (2.9% of organic search traffic), how Ambien works (1%), why masturbation makes you sleepy (2.2%), the sleep risks of off-label Adderall (1.7%), the science of nightmares (1.3%), sleep paralysis (1.8%), feeling pain in dreams (1%), and even some lucid dreaming techniques (4.4%).
These articles were well-researched and well-written. Casper went all-out on Van Winkle's. While they didn't spend a ton of money on AdWords for this property, they made significant investments in creating excellent, interesting content.
Which brings us to the next takeaway.
Takeaway 4: Find adjacent problems, and write content that solves them
Casper was never about the mattress. James Newell, a vice president at an investment firm that backed Casper, says of Casper's founders in an interview with Freakonomics, "they would tell you they're not a mattress company, they're a digital-first brand around sleep."
They built a brand around sleep, starting with a mattress. But they don't just publish content about mattresses—they publish content that helps people enjoy and understand sleep.
That means their content covered all kinds of problems adjacent to finding a better mattress. Which makes sense. When you have a hard time falling asleep, you don't immediately think, "I need a better mattress." You think, "Why are birds so loud at night?"
And if you Googled that before July 2018, you'd find Van Winkle's.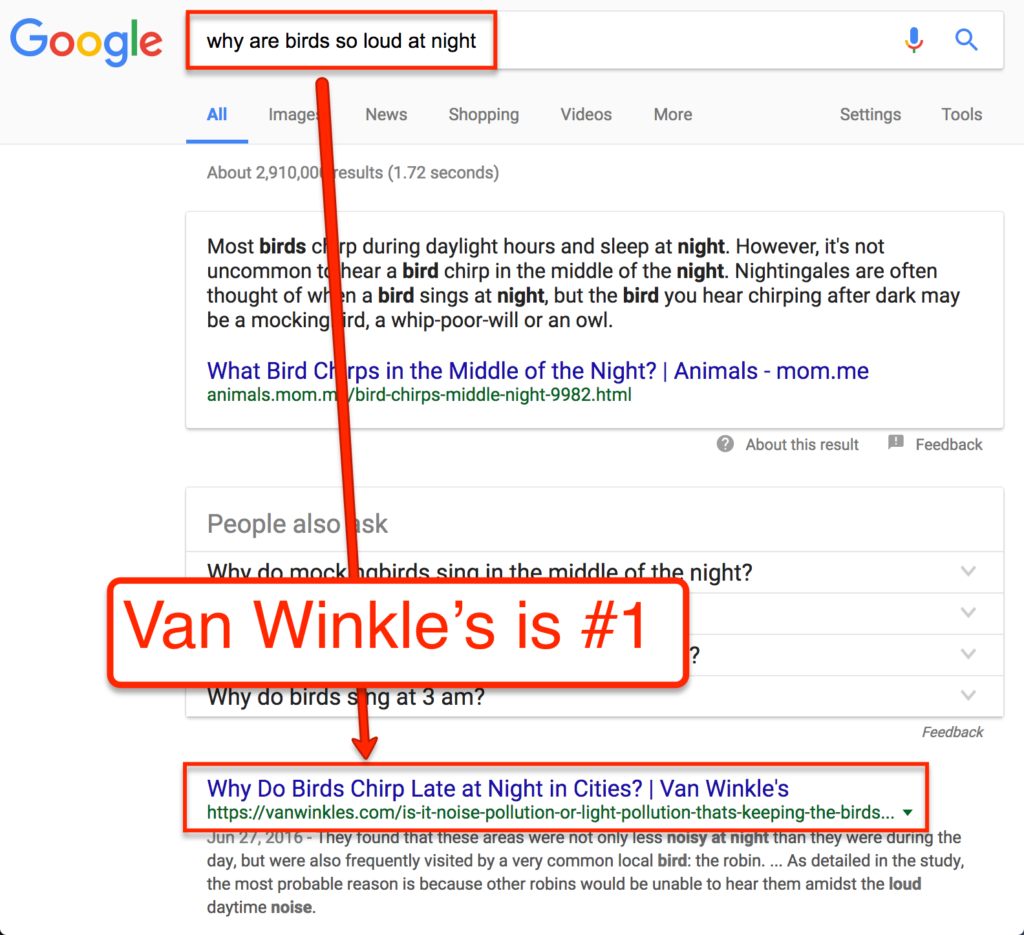 Van Winkle's articles helped people navigate all kinds of sleep-related problems and issues—many of which can't be solved with a better mattress.
In fact, Van Winkle's intentionally avoided talking about mattresses. In May 2018 I spoke with Theresa Fisher about the editorial direction of the magazine. When she began work on Van Winkle's, the Casper founders were dedicated to making sleep journalism a thing—which meant they didn't want the new blog to be all about their product. The editorial team was given freedom to pursue stories about sleep without needing to worry about there being a marketing angle.
I asked Theresa what advice she'd give content marketers. It wasn't surprising to learn that the trick to running a great editorial site was good journalism practices. "Put the story first," she said. "Clearly delineate editorial lines, and understand how they affect what you write about."
For the Van Winkle's team, this meant they wrote stories about sleep—not about mattresses, pillows, or anything that Casper was selling. The stories came first.
Van Winkle's didn't plug product, though.
You might read this and think, "Wait a minute. If most articles on Van Winkle's don't promote the mattress … then why bother?" (Maybe that's what new leadership at Casper thought, too. I don't know.)
That's where most companies choke when it comes to content marketing.
Sure, you wouldn't find many blatant calls to action on Van Winkle's, but the content was still working hard to build a Casper audience … indirectly.
VanWinkles.com had the Facebook Pixel installed, which means (presumably) the whole site was helping Casper build a massive audience they can serve Facebook and Instagram ads to. That retargeting pixel is like a magic string that let Casper reel visitors back to their products. Everyone who's looking into the side effects of melatonin or trying to figure out how to lucid dream becomes a candidate for Facebook ads from Casper.
Casper's competitor Purple is doing something similar. About 12% of their organic traffic goes to a small set of 11 pages on mattress types that Purple doesn't even sell.
That's genius—here's why
The mattress industry is super competitive. We already saw that Casper spends $40,000 a month to reach the people Googling things like "best mattress." Tuft & Needle spends more than double, and MattressFirm spends more than triple that.
Every mattress company wants to get in front of the people who are ready to buy a new mattress. That makes them super expensive customers to acquire.
So why not acquire customers before they're expensive?
It makes sense. Casper's mattresses are designed to help people get a better night's sleep.
If you're Googling the side effects of melatonin or the science of nightmares, you probably need a better night's sleep.
Van Winkle's caught the people who hadn't even entered the shopping mindset yet, and gave Casper opportunities to serve them ads about their products.
Surprise, surprise: there's a takeaway for you here.
Takeaway 5: Not every piece of content needs to sell
When Casper launched Van Winkle's, they didn't churn out a bunch of blog posts hailing Casper as the sleep panacea.
Instead, they invested in content that people would find valuable itself. They staffed the publication with talent from Maxim, Travel + Leisure, Salon, Mic, Gawker Media, and Men's Journal. The content wasn't about introducing people to Casper—it was about helping people explore the fascinating world of sleep.
How much content did Van Winkle's publish?
When Casper announced that Van Winkle's was live in June of 2015, they estimated that the blog would publish 10 new articles a day. They hit that number a few times, but by the end of the summer, it was already more common to see fewer than 4 posts per day.
Still, in 2015, Van Winkle's cranked out more than 340 pieces of content. And in 2016, they published more than 500 new articles.
Compare that to their 2017 publishing calendar—105 new articles before they hit the hay in November.
That's a ton of content. And we already know that 20 of those articles are doing most of the heavy lifting when it comes to organic traffic.
Takeaway 6: Outproduce the competition, but don't over-overproduce
Casper flooded the Internet with top-notch content about sleep. They found a ubiquitous topic that none of the competition was writing about, and churned out more quality articles than most mattress companies ever will.
And although they weren't pulling in a ton of traffic on their own, those "bottom" 900+ pieces of sleep journalism played a part in Van Winkle's SEO success, too. They garnered traffic when they were first published. They kept the Van Winkle's email newsletter engaged. They won backlinks. They made it easier and easier for future Van Winkle's articles to reference other articles on the same domain—an internal linking dream come true.
Still.
The fact that Casper cut down production by about 80% (and then shut it down altogether) is probably a good indicator that you don't need to aim for an editorial calendar of 10 original articles a day.
Wait. They shut Van Winkle's down—did Casper give up on content marketing?
That doesn't seem to be the case.
Casper was a mattress company that wanted to go broader, so they published a blog on sleep.
Now they're going even broader, publishing a blog on … comfort in general.
Woolly: another content play by Casper
In November 2017, Van Winkle's shut down and a spunky new Casper publication took its place: Woolly.
Editor-in-chief John DeVore described Woolly as "a new humor publication about comfort, wellness, and modern life." The magazine seems to be double-barrelling humor and science. While Theresa Fisher brought her science reporting chops from Van Winkle's (and Mic) to the new project, DeVore brought experience from writing for Conan O'Brien and The New York Post.
Woolly was both a blog and printed magazine issue—you can buy a copy for $12.
In their first six months, Woolly published 120 articles. They launched with a good deal of content already in the hopper, but just like Van Winkle's never maintained that 10-posts-daily regimen,  Woolly publication slowed, too. Only six new posts went live in April, 2018.
According to SimilarWeb (in December 2017), the lion's share of Woolly's traffic came either directly or via social media. The average blog post got shared about 260 times on social media—mostly on Facebook. Casper wisely promoted new Woolly articles to Casper-branded email lists, too.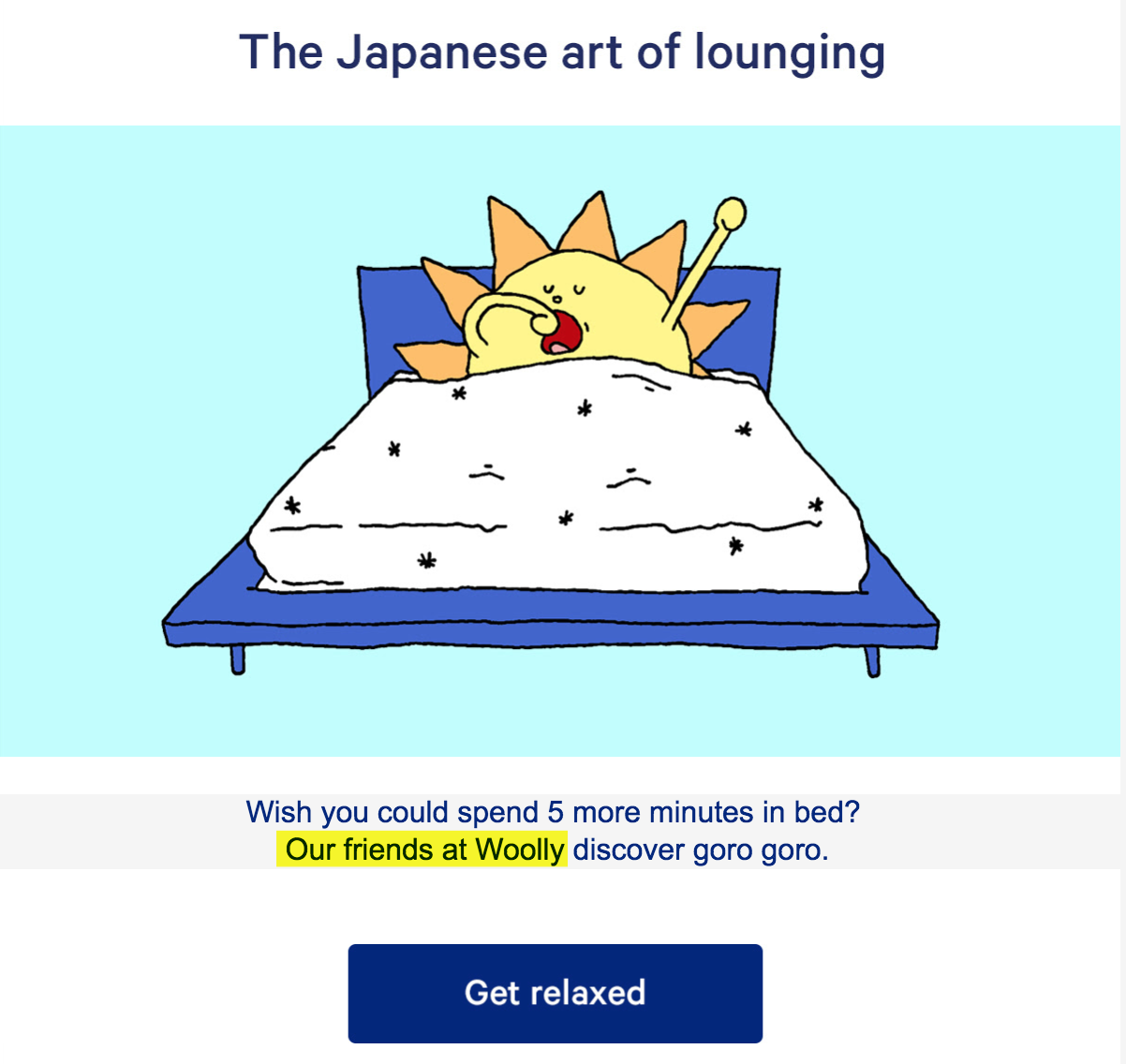 Woolly covers a variety of categories. Wellness and culture get the most blog time.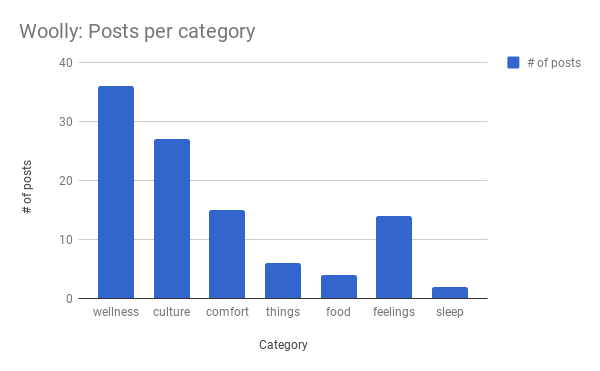 (But on average, posts about food get the most love!)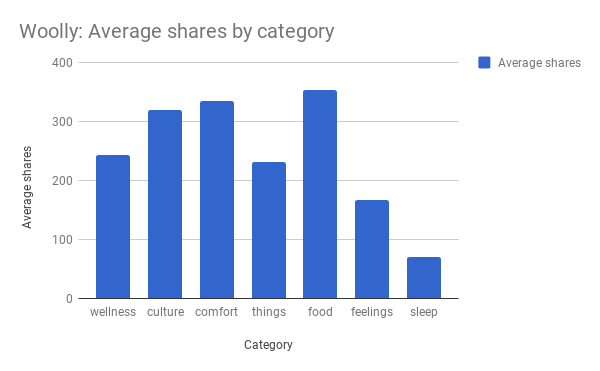 Takeaway 7: Publish content that matches your market's lifestyle
Woolly isn't going to win any awards for groundbreaking sleep research (probably). But they seemed to be making an even bigger grab at the emotional comfort marketplace than ever before. It's an urban hygge blogazine for people whose ideal Saturday is spent curled up in bed with the latest season of Orange Is the New Black.
In a way, Woolly is one layer of content marketing above Van Winkle's: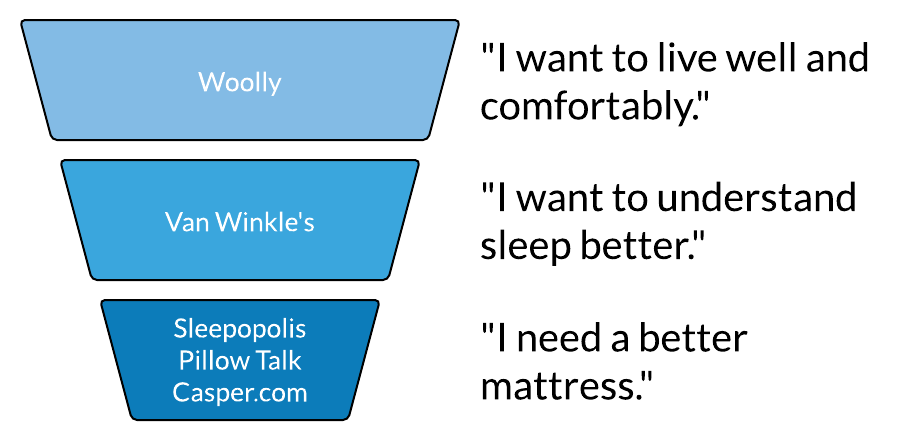 Wait … but how do people get from Woolly to Casper?
It's a pretty big leap from making all-condiment meals to buying a new mattress. While Van Winkle's sought to maintain a degree of editorial independence, Woolly plays up Casper's support.
From cheeky inline nods like this:

… to the self-referential ad at the bottom of every page of the website …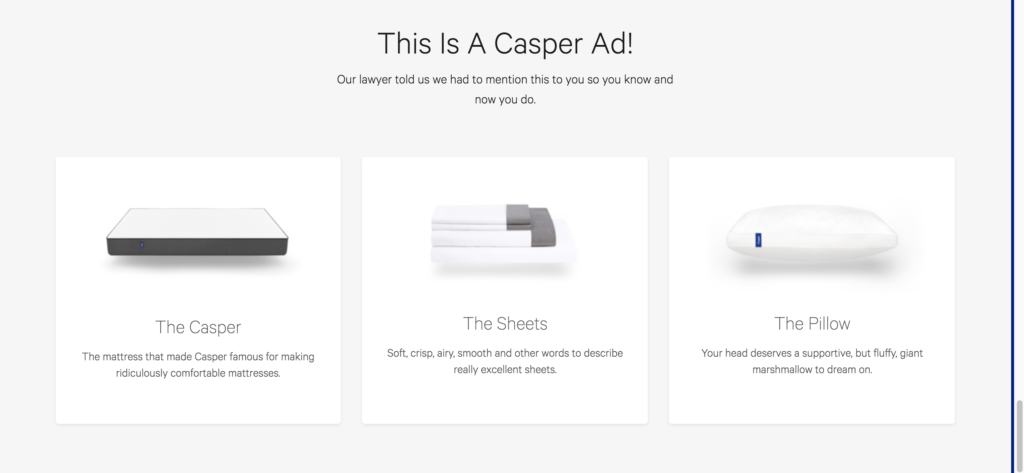 … to the persistent tab that hovers in the top-right of your window.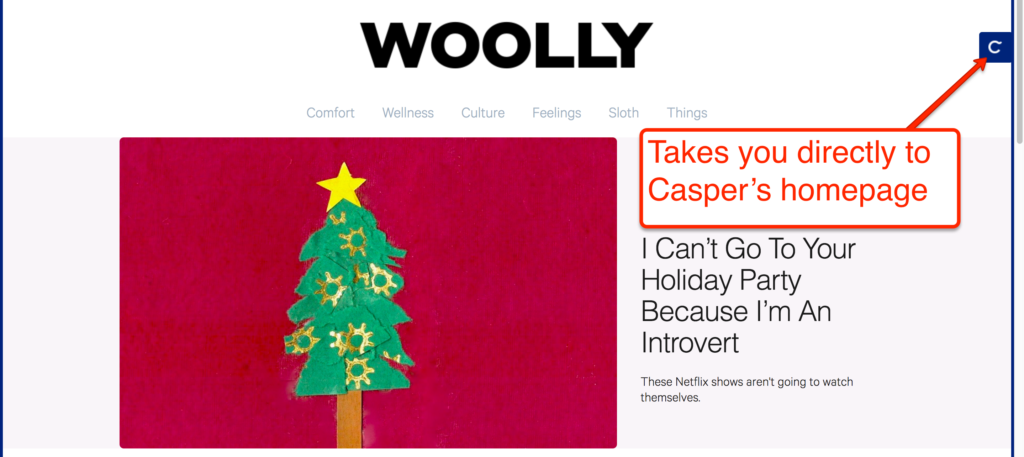 Some of these techniques are cuter than others.
(Don't ask me why Casper didn't add similar non-invasive plugs for their products to Van Winkle's instead of tragically killing the site. No, I'm not over it.)
Which brings us to another takeaway you can learn from Casper's strategy.
Takeaway 8: Sponsor your unbranded content
Although Woolly is a publication of Casper, Casper has chosen to unbrand that content. (That is, it's not living under the "Casper" brand.)
Still, Casper makes it clear that they're the ones bankrolling the content. And the Woolly brand voice frames the relationship nicely.
You can do the same. If you're spending the time, energy, and money that Casper did on creating quality content, you should be cashing in on that.
It's your content, after all.
A quick note on Sleepopolis
In July 2017 Sleepopolis, a major independent mattress review website, changed hands.

Technically this isn't a Casper property. Sleepopolis is a mattress review website that makes money by referring shoppers to mattress companies like Casper, Purple, Leesa, and Tuft & Needle.
But when JAKK Media (which also operates Slumber Sage) acquired the popular mattress review site, Casper spotted them the cash. Sleepopolis' disclosures page puts it this way:
"In July 2017, we acquired Sleepopolis with Casper's financial support. Until the loan is satisfied, Casper has the contractual right to repossess the assets and forgive the remaining value of the loan."
Casper has enough interest in Sleepopolis to finance its acquisition. So if you want to follow Casper's content marketing strategy, you'd be wise to keep an eye on Sleepopolis.
We don't know for sure what Casper's end game with Sleepopolis is. But what we do know is that Casper could repossess a site that currently ranks #1 for queries like "best mattress for side sleepers," "how to choose a mattress," "best firm mattress," and "best mattress for the money."
Probably not the worst position to be in.
Closing thoughts
Casper's success in the direct-to-consumer market is setting an example for brands that want to make it big. Granted, Casper has one thing that not every brand has: $240 million in funding.
However, you don't have to spend as much as Casper did to do this kind of content marketing.
For example, you don't need to run three blogs like Casper (Pillow Talk, Van Winkle's, and Woolly). You can run one blog on your own domain, and commit to producing consumer-centric content. Casper could have kept Van Winkle's and Woolly content on Casper.com, which would have bolstered their brand awareness and domain authority.
Why didn't they? You'll have to ask them.
For another example, you don't need to put the brakes on a website. Van Winkle's had more than 950 articles. I assume some of these articles could have been reworked with some SEO love to become bigger traffic magnets.
Casper has demonstrated that with a strong brand and a consistent message, a startup can become a household name in just a few years. And if that startup publishes the right content, they can become an organic traffic powerhouse, too.