There are a lot of fundraising fintech companies out there—but what are they doing in terms of content marketing and SEO? How are these businesses attracting decision-makers at nonprofits from search engines?
We've done a good deal of SEO work with fintech companies serving nonprofits—so I was especially curious. We started digging through the search engine data surrounding nonprofit fundraising platforms and their content. Whose blogs are getting all the traffic? And which posts are pulling most of the weight?
We analyzed 4,700 fundraising blog posts. Here's what we learned.
So I analyzed 4,686 blog posts (and similar content marketing pieces) of 20 fintechs in the nonprofit fundraising space, including Fundly, Classy, QGiv, and others. I found some interesting takeaways:
1. Fundly's blog dominates, but a few other players are catching up.
2. The 20 most valuable* posts generally fall into four categories: Fundraising ideas, Best-of lists, How-tos, and Letter Templates.
*And when I talk about "value," I mean the amount you'd have to pay to get this kind of traffic via PPC every month.
Fundly's blog gets better traffic with fewer posts
I looked at the blog (or blog-similar) content sections of 20 fintech companies in the fundraising space. When it comes to organic traffic from search engines, Fundly's blog gets more than the second and third most-trafficked blogs combined.
And that doesn't just go for straight traffic. If you were to look at the value of that traffic, you'd see that Fundly's in a similar position against the rest of the pack:
NOTE: I'm not including all 20 blogs in these graphs. The nine featured blogs had enough content and traffic for me to pull out some takeaways—the others' numbers were too low to helpfully compare. But, as you'll see in the second part of this report, there's still room for other contenders to compete with the big players.
Now you might see these charts and think, "Well, duh. Fundly and the others must just have more content!"
But that's not the case.
In fact, Fundly has significantly fewer posts on their blog than some of the challenger brands.
But a few of these brands are catching up. Classy's high-output content team is climbing the SERPs quickly. Qgiv is giving them a run for their money. Players like Salsa are taking less-is-more approaches to SEO—and they're seeing growth from it, too.
The 20 most valuable blog posts in this space
Now let's take a look at the specific blog posts that are pulling in the most valuable search traffic. I've got the whole list here, but I'll dig into a few high-level categories of posts afterward.
Remember: These are blog posts (or similar article-style contnet). They're not homepages. They're not product pages. People find these posts using unbranded keywords—meaning terms like "donation request letter," and not "Bloomerang."
| Rank | Post | Brand | Value | Traffic | Type/theme: |
| --- | --- | --- | --- | --- | --- |
| 1 | 131 Fundraising Ideas for Nonprofits and Individuals | Fundly | $49,129 | 18,041 | Fundraising ideas |
| 2 | Donation Requests: 90+ Companies that Donate to Nonprofits | Fundly | $44,955 | 13,853 | Best-of |
| 3 | 60+ Fundraising Event Ideas for Nonprofits | Salsa | $23,831 | 6,380 | Fundraising ideas |
| 4 | 65+ Fundraising Ideas That Will Rock Your Next Campaign | Qgiv | $22,818 | 7,866 | Fundraising ideas |
| 5 | Donation Request Letters: Fundraising Made Easy | Fundly | $20,934 | 7,956 | Templates |
| 6 | 9 Awesome (and Effective) Fundraising Letter Templates | Qgiv | $17,488 | 6,543 | Templates |
| 7 | 25 Quick Fundraising Ideas for Nonprofits and Charity | Classy | $17,384 | 5,134 | Fundraising ideas |
| 8 | The 40+ Best Crowdfunding Websites | Fundly | $13,873 | 6,458 | Best-of |
| 9 | 6 Socially Responsible Companies to Applaud | Classy | $12,696 | 2,608 | Best-of |
| 10 | Social Entrepreneurship Programs: 23 Universities Paving the Way | Classy | $10,945 | 442 | Best-of |
| 11 | Fundraising Letters: 7 Free Examples to Successfully Ask for Donations | Fundly | $10,535 | 4,157 | Templates |
| 12 | Text-To-Give: The Powerful (Yet Untapped) Fundraising Tool | Snowball | $10,446 | 1,364 | What-is |
| 13 | 48 Fundraising Ideas for Sports and Teams | Fundly | $10,083 | 3,044 | Fundraising ideas |
| 14 | 7 Outstanding Nonprofit Sponsorship Request Letter Samples | Qgiv | $9,553 | 5,215 | Templates |
| 15 | 10 Steps To Starting Your Nonprofit Organization: A Guide | Snowball | $8,637 | 1,911 | How to |
| 16 | 25 Fundraising Event Ideas to Raise Money for Your Cause | Classy | $8,435 | 2,992 | Fundraising ideas |
| 17 | Top 10 Online Donation Tools for 2018 [Reviewed and Tested] | Qgiv | $8,304 | 815 | Best-of |
| 18 | 85+ Awesome Church Fundraising Ideas For Your Congregation | Snowball | $7,895 | 2,663 | Fundraising ideas |
| 19 | Sponsorship Letters: 12 Free Templates for Writing a Sponsorship Proposal | Fundly | $7,368 | 4,259 | Templates |
| 20 | 145+ Community Service Ideas [with Examples!] | Fundly | $7,305 | 2,984 | Best-of |
What do these posts have in common?
Many of these posts could count as pillar pages: authoritative pieces on a given topic that you build internal links from clusters of related pages on your site. It's a strong and intuitive approach to SEO—and it's worked wonders for clients of ours in the nonprofit SaaS space.
For the most part, these articles line up with the three types of pillar content that work across industries: Best-of, How-to, and What-is.
Best-of posts are usually listicles that round up the most important or noteworthy items in a given category. The standout example in this vein is the abundance of "best-of" fundraising ideas lists—which we'll look more closely at in a minute. Classy and QGiv have some other great examples, highlighting things like socially responsible companies (#9) and helpful donation tools (#17).
How-to posts help people accomplish tasks and solve problems. All these posts with free templates are examples of how-to posts. Not only are they showing people how to write letters, they're doing some of the heavy lifting themselves! The other example is pretty obvious: Snowball's piece on how to start a nonprofit organization (#15).
What-is posts define a topic or concept for the reader. This category isn't represented much in the top 20, but you should still check out Snowball's phenomenally comprehensive guide to text-to-give donations (#12). It's epic and must have taken a ton of work. Bravo, Snowball.
You would have noticed two common themes emerging from this list, too—so let's look at those.
Fundraising ideas
Seven of the 20 most valuable blog posts in this space provide lists of ideas for raising funds. One takeaway is clear: if you're in this space, you better have a list of fundraiser ideas. If people aren't getting them from you, they're getting them from somewhere else.
But heads-up: the longer your post, the more overwhelming it's going to seem to the people who just showed up from Google. Take a note from the experts and put some jumplinks to use for you.

But you don't need a long list of general fundraising ideas right off the bat. Several of these posts provide smaller lists of ideas targeted to a single facet of fundraising. We have lists of ideas for events, sports teams, causes, churches—all kinds of smaller cross-cuts of the fundraising ideas concept.
Document templates
People hate facing a blank white page.
That's one reason why read-to-use templates are so popular when it comes to this space. (A quarter of the top 20 blog posts are just templates and examples!) Why start a donation request letter from scratch when you can can snag an outline from the web and personalize it?
These kinds of posts tend to include the following three elements:
1. An image of the document, with brackets indicating where to put custom material, and prompts for what that material should be.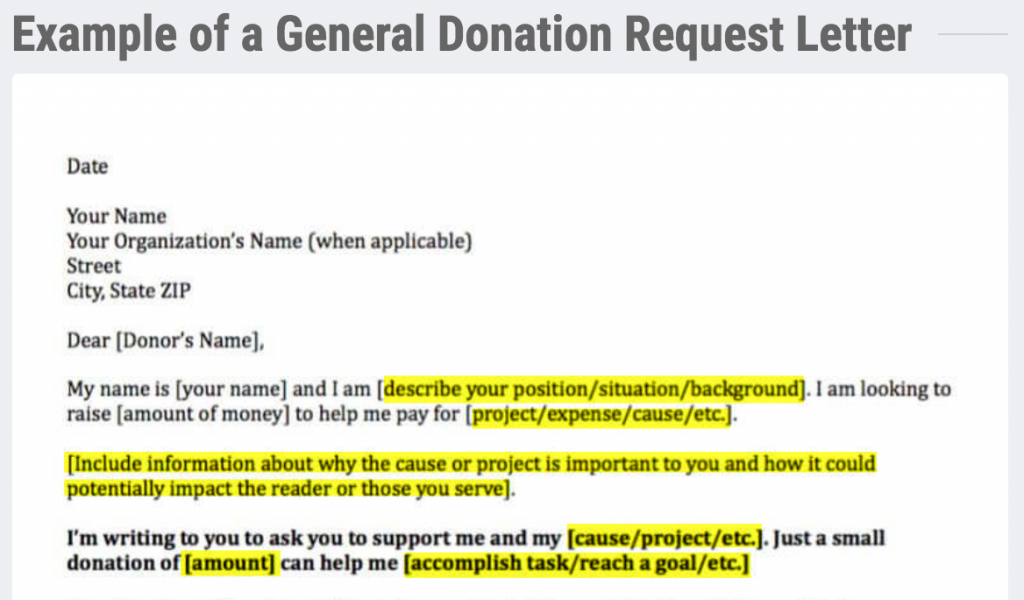 2. A list of best practices to keep in mind while writing the whole document.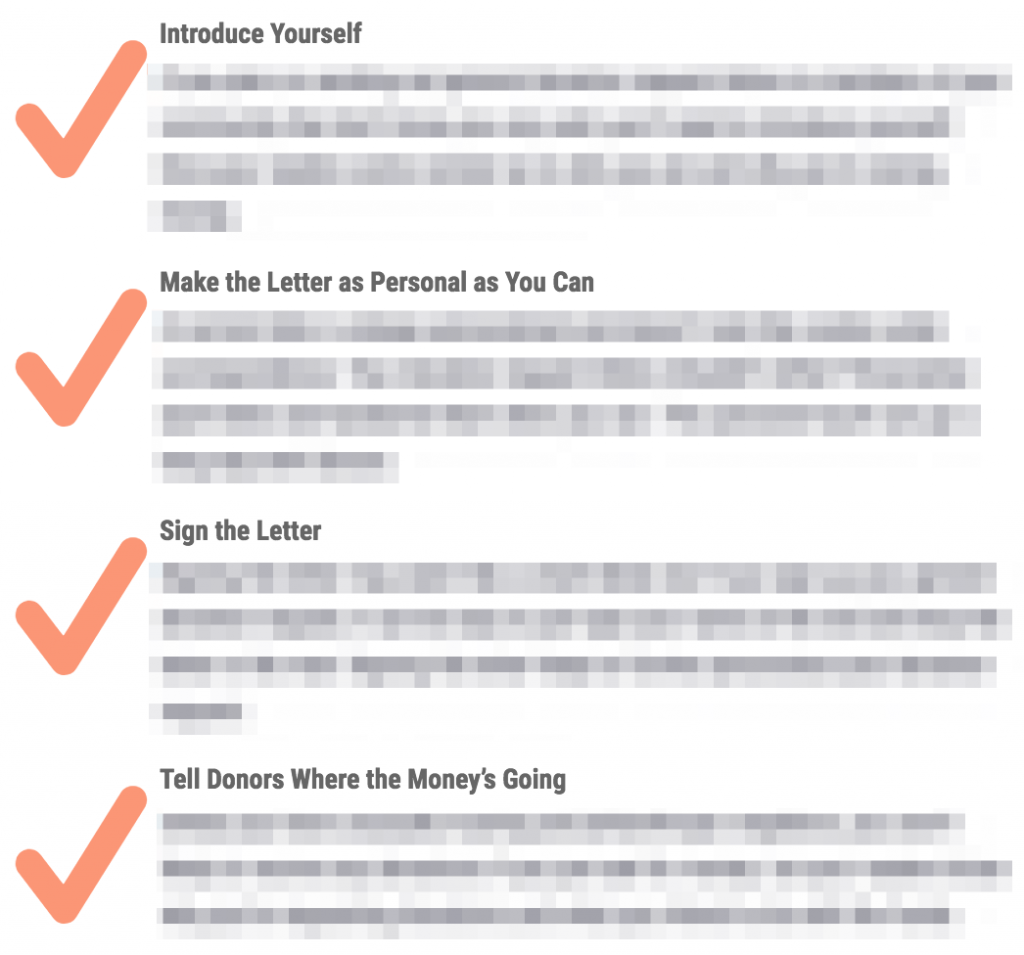 3. A link to a landing page to download the template in exchange for contact info (classic).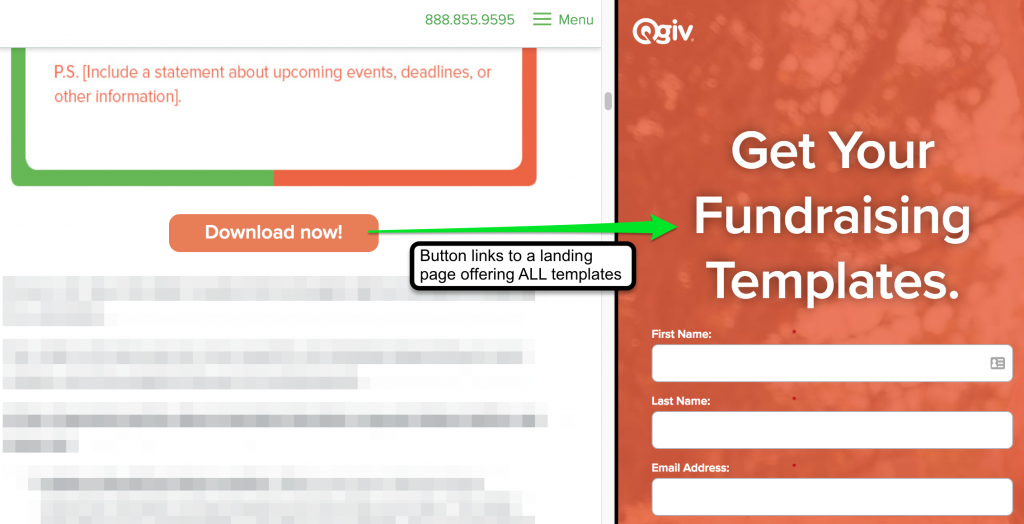 Conclusion
Fundly's dominating the SEO landscape, but there's still plenty of room for other players to get a biger slice of the pie. You know where the valuable traffic's going and what kind of content attracts it—which gives you some direction for a competitive content strategy moving forward!
… And if you'd like to talk about what we learned from the other 4600-something posts, drop me a line and let's talk. =)