There's no question that a blog can drive traffic to your website and build brand loyalty. But it takes strategy—simply having a blog isn't good enough.
There are thousands of posts promising the secret formula your organization can use to get more traffic, leads, and revenue through blogging. Hypothetical situations can only take you so far, though.
Plenty of companies are willing to tell you what they did and how you can do it too—but most of these guides are glorified ads that don't even have data to back up their claims. But buried in the abyss of the Internet, there are legitimate case studies that walk you through the who, what, where, when, and how of an organization's blogging journey.
We pulled together 10 concrete case studies of organizations and individuals that used blogging to bring significantly more traffic to their sites—with the data to back it up. We'll talk about the methods they used and why it worked for them. If anything grabs your attention, we're also linking to the original case studies so you can get a more in-depth look.
Some of these organizations are startups, and others are mature businesses. Some of them had blogs that weren't working well, others started from scratch, and some were wildly successful from the beginning. No matter where you're at, you'll find helpful takeaways in these tangible examples.
Check out these 10 case studies on using blogging to increase organic traffic:
1. Ahrefs: Deleted 49% of their posts and increased traffic
Industry: SEO SaaS software
Key stats:
89% traffic increase in three months
Deleted 266 posts that weren't getting traffic (49% of their total posts)
How they did it:
Content auditing
Keyword research
Competitor analysis
Promoting the blog on other channels
Where the study came from: Ahrefs published the original case study on their blog in 2016. The changes were made in November 2015, and the study lasted until February 2016.
It might seem crazy to delete old posts—and usually, it is. Good blog posts provide value long after you write them—that's the whole point of search engine optimization. But in 2015 the SEO experts at Ahrefs realized that nearly half of all the blog posts they'd ever written were getting a grand total of zero visitors each month. That's not good.
"If we consider that user signals will become more and more important to Google over time (and we do)," Ahrefs says, "then all those posts with ZERO visits and ZERO engagement can't be sending Google good vibes. Unfortunately, there were LOTS of posts like this on the Ahrefs blog."
After a thorough content audit, they deleted 266 blog posts from their website. They totaled just over 179,000 words—less than 700 words per post. But they didn't just throw away all of their backlinks, either. When another site links to your content, it benefits your whole website, not just that one post. So Ahrefs created a redirect for any post that had backlinks, sending any future visitors to either a related blog post or their home page.
But "out with the old" was only half the process. Now they had to revamp their strategy—"in with the new."
Before they did the content audit, Ahrefs had been cranking out four of these short little posts per week, subscribing to the old SEO mantra that more content means more traffic. After the audit, they cut their posting frequency in half, giving them more time to focus on quality.
Now the Ahrefs blog is a prime example of The Craftsman method: they take their time to produce the best possible posts on every subject they address. They use keyword research to determine groups of keywords they want to go after, so they can rank for thousands of long-tail keywords, not just the one broad keyword their competitors are thinking about. Then with competitive analysis, they pick apart the competition.
I don't doubt that deleting useless posts affects how valuable Google considers your site, but it's hard to say which of the many changes Ahrefs made had the biggest impact on their increase in traffic. Unfortunately, this case study doesn't let us separate the effect of the "out with the old" and "in with the new" pieces of their blogging strategy—they implemented all of these changes at once.
Still, an 89% traffic increase is a huge improvement in three months, and since Ahrefs made these changes all at once, it's probably safe to conclude that the audit of past content and the improvements to future content both contributed to their success.
2. Buffer: Grew traffic to 1.5 million monthly sessions
Industry: social media management software
Key stats:
Over the course of six years, Buffer grew their monthly blog audience from zero to 1.5 million
How they did it:
Keyword research
Content auditing
Capitalizing on trending topics
Headline testing
Where the study came from: Buffer published this case study on their blog in 2017, and the data spans from 2011 to 2017.
For a while now, Buffer has been a poster child for content marketing in the SaaS space. But they didn't come right out of the gate with thousands of regular readers. Like all organizations, they got where they are through trial and error.
Unlike Ahrefs, Buffer didn't do a content audit to wipe the slate clean and erase any blemishes on their blog. Instead, they used their past content to learn what was resonating with their audience—so they could make more of it. "We uncovered that our audience enjoys our long-form, educational blog posts," Buffer writer Alfred Lua says. As they discovered which posts performed the best, Buffer focused on replicating that success.
Buffer's blog takes full advantage of The Producer methodology. Social media and content marketing are constantly evolving, and with every change, Buffer has something to say about it, making them a go-to resource for people who want to keep up with the industry. They write about anything and everything related to their market, so they're always facilitating and contributing to relevant conversations.
Buffer also dug through outdated posts to find content that had a steady stream of organic traffic, but that could be improved with minimal effort. By updating posts with outdated information and republishing them, Buffer often increased the post's organic traffic. This post about social media analytics tools went from about 300 organic views per day to about 700 after being updated and republished:
Buffer doesn't just write valuable long-form content though. They also test the heck out of each post's title, often working through 20+ titles per post. This gives them plenty of fodder for reposting old posts on social media, and it helps them find the post titles people are most likely to click. (They have a handy post on headline formulas to help you do the same.)
This case study has a lot of helpful insights into how Buffer maintains this massive blog. But six years is a long time. They didn't hit 1.5 million monthly sessions overnight. Looking at their graph spanning from launch to the time of the study, I'm most curious about what happened in 2013, when they experienced the most dramatic growth.
It's possible that it was around this time that they really perfected their technique and landed on the strategies they've outlined in the case study—or that it took about that long to rank for competitive terms—but an analysis of a smaller time range might lead to new insights.
Overall though, Buffer provides a helpful model of how to grow and maintain a steady stream of traffic on your site through blogging.
3. The Renegade Pharmacist: nearly 1,000 backlinks from one infographic
Industry: Health/alternative medicine
Key stats:
Earned nearly 1,000 backlinks from a single post on a brand-new site
Increased domain authority led to ranking for hundreds of keywords
How they did it:
Infographic
Link-building
Where the study came from: Ahrefs published the case study on The Renegade Pharmacist in 2016, more than a year after the site became famous for its controversial infographic.
In 2015, a brand-new site used a nearly 10 year old article about how Coke affects your body to create this infographic:
A blog post accompanied the image, but about two months after the post went live, the infographic started showing up everywhere. Ahrefs put together this delightful graph showing backlinks to TheRenegadePharmacist.com:
And take a look at where some of the first backlinks came from:
After about two months without getting much traction, the infographic was shared to a popular subreddit, where it immediately took off.
So how did all of those backlinks affect The Renegade Pharmacist? Ahrefs used their site explorer to check out organic traffic around the time the infographic came out:
And all those backlinks from major sites lent TheRenegadePharmacist.com some serious domain authority, which led to a massive jump in the number of keywords the site ranked for:
You can't force something to go viral, but with the right combination of factors, even unknown brands can explode onto the scene and stay there.
The Renegade Pharmacist pulled off a challenging strategy we fondly refer to as The Mad Scientist. Nobody saw this infographic coming, and it had the perfect concoction of intrigue, authority, controversy, shareability, and placement. It validated concerns people already had about the sugar content of soda, pointed fingers at a popular brand everyone knew, and stirred up conversations from media and health professionals alike about the things we put in our bodies.
It probably won't come as a surprise to hear that The Renegade Pharmacist tried to replicate the success of this infographic with a Diet Coke version. But it was the same idea, so it didn't produce nearly the same traffic. That's the challenge with The Mad Scientist approach—you have to constantly innovate, or else embrace the diminishing returns.
4. Snack Nation: 59% increase in homepage traffic from blogging
Industry: B2B snack delivery service
Key stats:
10,000 page views per month on a single post
Post led to a 59% increase in homepage traffic
Drives $100,000 in monthly recurring revenue
How they did it:
Skyscraper technique
Keyword research
Competitor analysis
Link-building
Blogger outreach
Where the study came from: Inspired by Brian Dean's famous skyscraper technique, Snack Nation set out to write the most thorough post possible on employee wellness. Brian Dean then published this case study on Backlinko.
Snack Nation had a blog, and they were using a pretty common formula for their posts. "They were publishing generic posts like, '3 ways to do X' and '5 tips for Y'."
It wasn't working for them:
"When we first started out, the blog had a couple of okay posts. We weren't going after keywords that were outside of our really tiny niche. There's only so many things people are looking for in terms of office snack delivery."
Through keyword research, Snack Nation could see that only about 20 people per month were searching for the most relevant term they wanted to rank for: "healthy office snack ideas." "Wellness program ideas," however, had far more monthly searches and high commercial intent—meaning companies paid good money to advertise for this term, and people searching for it were likely to buy.
After identifying the keyword they wanted to rank for, Snack Nation scoped out the competition—and it was bad. Once you got through all those ads, about half of the top results were PDFs, which provide a pretty terrible user experience. Some of the others were posts listing ideas with no explanations, which isn't very helpful.
So Snack Nation set out to list more wellness program ideas than anyone else and to provide more information for each one. After exhausting the ideas they could come up with internally, Snack Nation reached out to their customers for more ideas, as well as other bloggers who wrote about employee wellness.
Using customers and bloggers to generate more ideas also led to easy outreach opportunities—people were happy to share a post that they'd been featured in.
It wasn't enough just to write the best content. Snack Nation also had to take a systematic approach to outreach in order to build reliable backlinks fast. For more on what that looked like, you should definitely check out Brian Dean's full report, along with our guide to B2B SEO for more tips and best practices on blogging in the B2B space.
The result of all that effort on a single post? A sweet increase in homepage traffic: 59.2%. And a steady flow of 10,000 blog views per month.
5. Vero: 36,000+ pageviews from a single post
Industry: email marketing software
Key stats:
Ranked #2 for highly competitive keyword (email marketing best practices)
4,865 pageviews on a post within a week of publishing
36,000+ pageviews at the time of the study
953 email signups from the post
256 free trial signups
How they did it:
Skyscraper technique
Keyword research
Competitor analysis
Link-building
Blogger outreach
Where the study came from: This is another super detailed case study from Brian Dean's school of skyscraping, circa 2015. The post Brian Dean analyzed was published in 2014.
Vero's case study has a lot in common with Snack Nation. With thorough keyword research, they constructed a 5,000+ word blog post that outclassed the competition. They also focused on creating a far more user-friendly post. Vero made their email marketing tips easy to navigate and provided real-world examples and quotes from industry leaders with each tip. They also spent some design time on this post, helping it make a strong first impression:
All of those examples and quotes also led to great opportunities to build backlinks and get some valuable social proof (this post about email marketing has over 5,000 social shares).
The case study can walk you through Vero's outreach process for landing backlinks.
6. KISSmetrics: 2.5 million visitors from 47 infographics
Industry: email marketing software
Key stats:
2.5 million visitors and 4,000+ backlinks from 47 infographics
100,000 monthly visitors in less than 12 months
How they did it:
Infographics
Social sharing
Where the study came from: In 2012, Neil Patel published a KISSmetrics case study on Quicksprout.
When Neil Patel put together this case study, the blogging world was still coming to grips with the fact that longer posts generally perform better than shorter ones. But what's fascinating about the way KISSmetrics approached blogging is their focus on infographics.
"Within the two-year period, we've generated 2,512,596 visitors and 41,142 backlinks from 3,741 unique domains, all from those 47 infographics."
As an email marketing SAAS company, KISSmetrics has access to a lot of data. They distill all that complex information into simple, useful infographics people can trust and share. And if those numbers aren't convincing enough, Neil Patel breaks down what that kind of traffic would cost if you paid for it:
"If you decided that you want to buy 2,512,596 visitors, it would cost you $125,629.80 if you paid 5 cents a visitor. If you bought 41,142 links from a service like Sponsored Reviews at a rate of $20 a link, you would have spent $822,840. And that wouldn't even give you high quality links. We naturally got our links from sites like Huffington Post and Forbes."
In comparison, a top-notch infographic cost them about $680 to create.
7. Slidebean: How a $70k content budget made $200K in revenue
Industry: presentation software
Key stats:
50,000+ monthly visits to their website
$206,334 in revenue from content marketing traffic
How they did it:
Where the study came from: Slidebean posted this case study on their blog in 2016, recounting their successes from the year before.
This is a handy case study for startups because it walks through the fundamentals of blogging (including choosing a domain and content management system) and lays out the total costs including labor.
What's interesting about Slidebean's approach to SEO is their emphasis on targeted advertising. They realized organic search results were getting the vast majority of traffic, so they used advertising to help their posts climb the ranks.
They spent about $4,300 per month on advertising and a total of about $70,000 for 12 months of content marketing.
Obviously to get that kind of return, they weren't just throwing money around willy-nilly. "The key to our success here was confirming that the keywords we were going to target were actually going to bring qualified traffic," Joe Cayasso from Slidebean says. "Adwords helped us do that in a few weeks."
Slidebean discovered that one particular keyword—"pitch deck"—was giving them a far greater return on investment, so they built their entire campaign around it.
When Slidebean started their blogging journey, the CEO was writing all of their content. They transitioned to a small team, and to scale their efforts even further they delegated some articles to a group of freelance writers.
8. Scoro: an 11-month journey from 6K to 31K monthly visits
Industry: Work management software
Key stats:
Traffic increased by 1,843% in the 12 months prior to the study
Went from 6,000+ monthly visits to 31,000+ in the last 11 months
How they did it:
Focusing on quality over quantity
"Content bundles" (series of related posts)
Interlinking posts
A/B testing titles
Keyword research
Where the study came from: This case study was published on Aggregate Blog in 2017.
Scoro began its blogging journey by buying 800-word posts from an agency. These posts had little short-term or long-term impact, which led this SAAS startup to learn how to blog on its own.
The case study is really transparent: Scoro shares about the many blunders they had along the way and the strategies that ultimately turned things around for them. Rather than focusing on a single post, the study discusses their high-level strategies for the blog as a whole, which took them months to get right.
One of the key differentiators with this case study is the addition of interlinking. While plenty of the other sites we've looked at used interlinking, they didn't talk about it in the case study. Here we see how Scoro intentionally focuses several posts on related topics to build a network of pages that link to each other. Think of it like sending out a team of baseball players to catch fly balls—instead of having one person cover the whole field.
If you're having a hard time getting backlinks from reputable sites, internal links can still be a great way to make your blog posts more valuable to readers—and just as importantly, more valuable to Google.
9. Nat Eliason: taking your site from 0-10K monthly visits
Industry: marketing
Key stats:
Nat's personal site gets 50,000 monthly visits
This is a roadmap for going from 0–10,000 monthly visits in a few months
How they did it:
Keyword research
Detailed content planning
Guest posting
Content auditing
Where the study came from: Nat Eliason shared his startup blogging strategy on the Sumo blog in 2017.
In this study, Nat Eliason demonstrates how he planned months of SEO-focused blog posts (and it's insanely simple). It walks through a hypothetical tea-related website, but this was his methodology to grow his personal site to 50,000+ visitors per month.
Working backwards from his goal (in this case, 10,000 visitors a month), Nat turned this ambitious number into something more tangible. He determined he needed about 333 visitors per day, which he could achieve with just six blog posts, assuming they each got between 30 and 60 visits a day.
Sounds surprisingly doable, right?
Nat implements a lot of the usual strategies regarding keyword research and SEO, but what makes his example so valuable (and repeatable) is his content creation strategy.
Nat built a massive list of possible blog post ideas, and then before digging into keyword data, he sorted posts based on how in-depth he felt he could go on the topic. Then he prioritized the lengthiest posts using keyword volume. This ensured that he only spent time on posts that could pack the biggest punch.
When you want to know how much competition there is for a keyword, you might think Google Keyword Planner is the best place to look, but Nat thinks bloggers need to use a different definition of competitive:
"What I mean by competitiveness is who else is ranking for this keyword in Google right now." With a brand new blog, Nat knew it'd be hard to take on big domains, so he focused his efforts by starting on posts that only had to beat small websites.
That's The Maverick methodology at work: Nat used his blog to snatch up traffic his biggest competitors overlooked.
10. Honorable mention: 800 views in a single day on a new blog
I couldn't resist throwing in this brief case study from Social Triggers. With a sly tactic called "drafting" a new blog landed a nice little bump like this:
So what's "drafting"? Well, when your competitors get featured on a popular website, instead of saying, "Shoot, I wish I could get featured on there," you weasel your way into a follow up article.
Social Triggers recommends you "analyze the story about your competitor. Were there any holes? Concerns? Or was there room for additional commentary?" Basically, you're looking to add value by responding to the piece that was already written.
This technique isn't nearly as reliable as the others we've looked at, but you should always keep tabs on your competitors anyways, right? You could set up some Google Alerts, or just use Google's search tools to filter for recent results: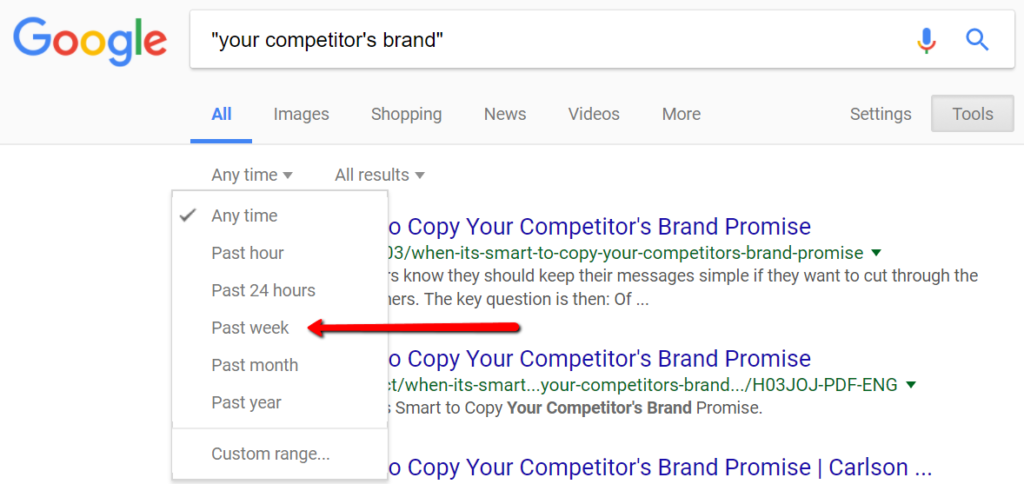 This definitely shouldn't be your primary tactic, but it could be a way to get some quality backlinks with minimal effort.
The best blogs have a lot in common
Each of these companies had different strategies to increase organic traffic through blogging, but here are some proven tactics that show up time and time again:
Keyword research
Competitive analysis
Backlink building
Interlinking
Thorough, high-quality content
Visuals
Testing
Leveraging other channels like paid advertising, email, social, etc.
Improving old content
The bottom line is if you want to increase organic traffic, you need to blog strategically.
(And we can help you find both the strategy and content that works best for your organization—reach out to us here.)